Mixed Door Office Storage Credenza for Shoes or Office Storage - 3 Medium Doors and 6 Small Doors in 3 Columns
SCM3-3M6S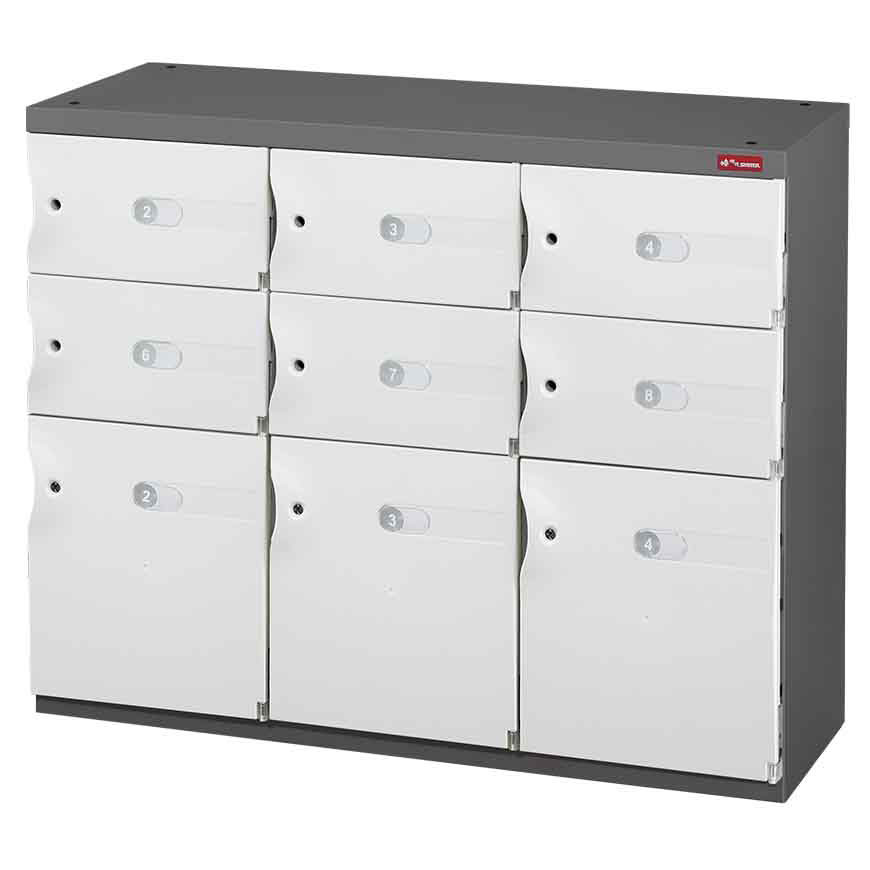 Created with office and industrial personal possession storage needs in mind, but equally at home in a house, this cabinet is a supreme example of new design for functional and vibrant office storage. Most uniquely, this unit has air holes designed into the cabinet and doors, and they allow air to circulate inside for freshness. Accelerate this by installing a SC03 door-reduction device. Wide or vertical doors are available and are made of stout ABS material. Accessories include hooks and cords in the doors, or choose from additional extras like locks, feet, and wood up-top. Change colors to suit.
Features
Multi-functional cabinet with 6 S- and 3 M-style lock-and-key doors.
Doors feature built-in hooks.
Patented door design.
Magnetized doors close securely.
Ventilation holes reduce odors.
Color can be customized.
Specification
Dimensions: 890 W x 350 D x 714 H mm
Package Details: 1 pc / 1 ctn (965 W x 444 D x 800 H mm / 12.10 cu ft)
Material: Galvanized Steel, ABS
Color: Black Body and Snow White Doors
Gallery
Press Release
SHUTER Wraps up Future Forward in June, 2019

SHUTER wraps up Future Forward 2019 buyers' conferences in Vietnam.

Read More

SHUTER Wraps up Future Forward in May, 2019

SHUTER x RECO host Future Forward buyers' conference in Japan.

Read More

SHUTER Wraps up Future Forward in Oct, 2019

SHUTER products tip-top at Taipei AMPA 2019.

Read More