Large Tool Chest - 1684mm Height, 3 Shelves, Double Backboard, 4" TPR Casters
CT-8821 + HB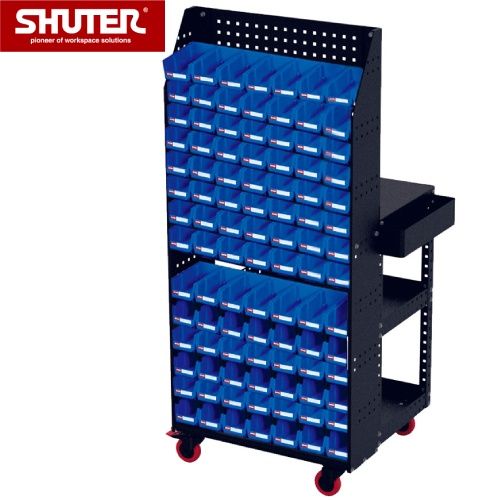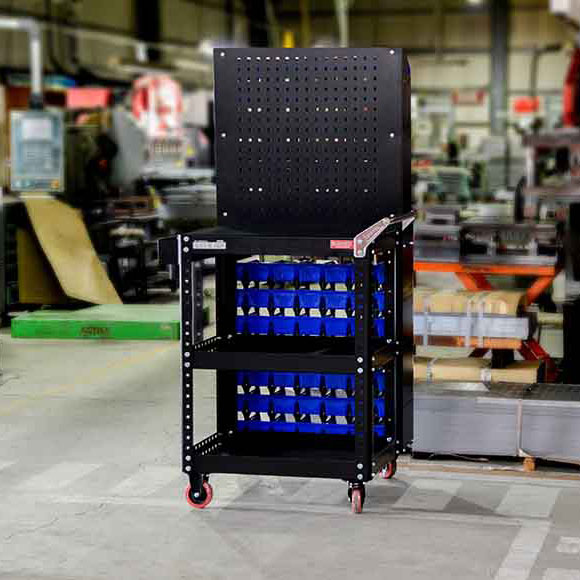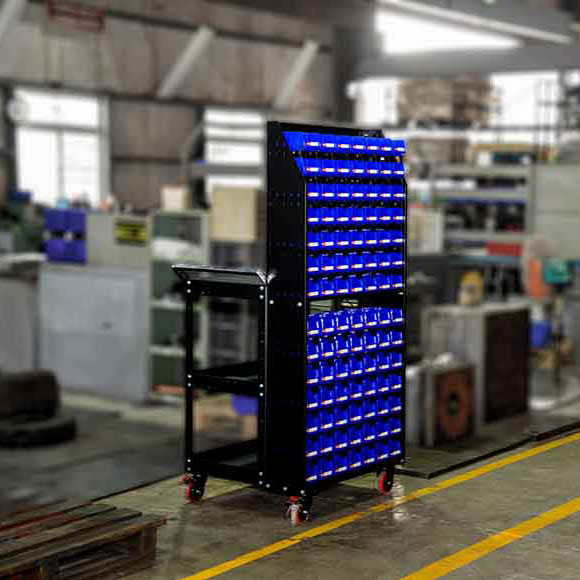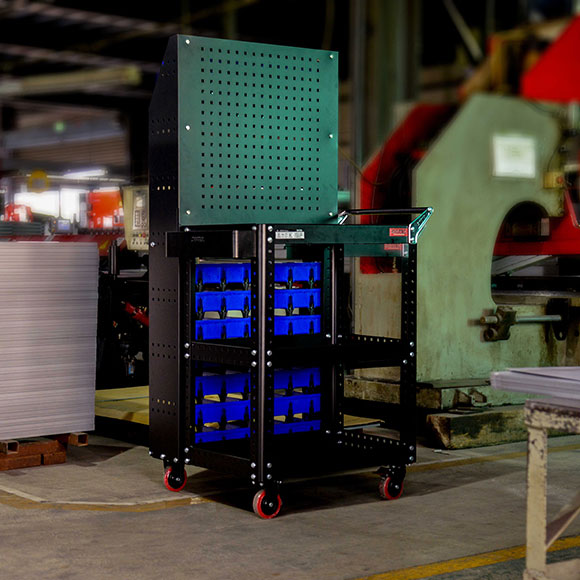 Double-sided, multi-use SHUTER cart that makes it easy and convenient to access to all your tools and parts anywhere in your workspace. SHUTER advanced super-strong tool trolleys have evolved over time to be a reinforced product for industrial use. A creative design feature is the multi-purpose shelving: flat on one side and with a solid safety edge on the other. Other key characteristics include 4 noiseless casters (two with a special braking system). This unique multi-use cart has a steel handle that is built into the actual frame of the cart to help you move it easily and lots of ways to add more features: tool drawers, lockers, and square hole pegboard siding and backboards. Comes with 98 HB-220 hanging bins.
Features
Heavy duty tool cart with 2 two-way shelves and two-sided backboard.
Includes 98 HB-220 bins.
High quality powder coated 1.2 mm thick galvanized steel.
Useful cart height of just over 1 meter: suitable for sitting or standing work.
Knock-down design for space-saving flat-packed product shipping.
Each shelf can support weights of up to 100 kg (whole product weight limit is 200 kg).
Fitted with oil resistant EVA anti-slip pads.
Specification
● Dimensions: 873 W x 706 D x 1684 H mm
● Package Details:
* Carton A: 900 W x 585 D x 170 H mm (3.16 cu ft)
* Carton B: 776 W x 706 D x 27 H mm (0.52 cu ft)
* Carton C: 1590 W x 230 D x 130 H mm (1.68 cu ft)
* Carton D: 773 W x 206 D x 55 H mm (0.31 cu ft)
* Carton E: 570 W x 333 D x 327 H mm (2.19 cu ft)
● Weight:
* A: NW 26 kg; GW 27.5 kg
* B: NW 4.5 kg; GW 5.3 kg
* C: NW 13 kg; GW 13.7 kg
* D: NW 2.1 kg; GW 2.4 kg
* E: NW 9.6 kg; GW 10.43 kg
● Material: Steel
● Color: Black
Press Release
SHUTER Wraps up Future Forward in June, 2019

SHUTER wraps up Future Forward 2019 buyers' conferences in Vietnam.

Read More

SHUTER Wraps up Future Forward in May, 2019

SHUTER x RECO host Future Forward buyers' conference in Japan.

Read More

SHUTER Wraps up Future Forward in Oct, 2019

SHUTER products tip-top at Taipei AMPA 2019.

Read More