Large Tool Chest with 3 Shelves, Double Sided Pegboard & Hanging Bins, Height 1,684 mm
CT-8821HB
Large Tool Cart with 3 Shelves, Double Sided Pegboard & Hanging Bins, Height 1,684 mm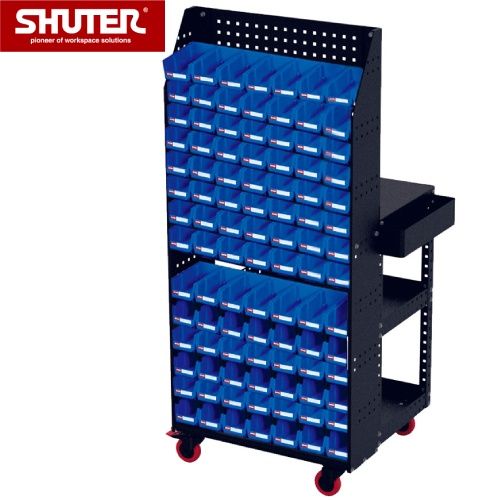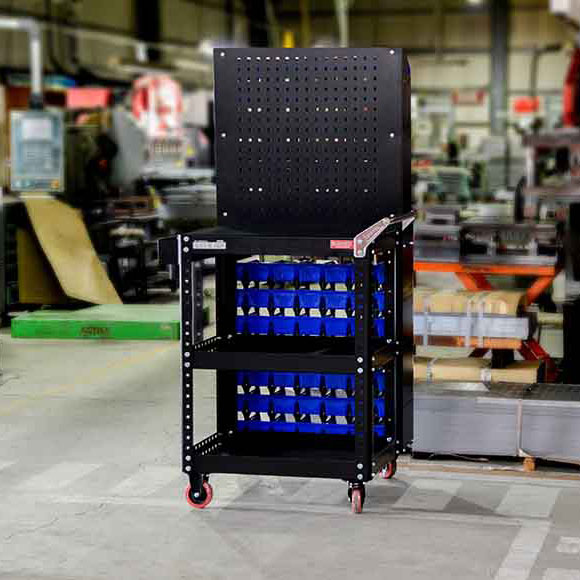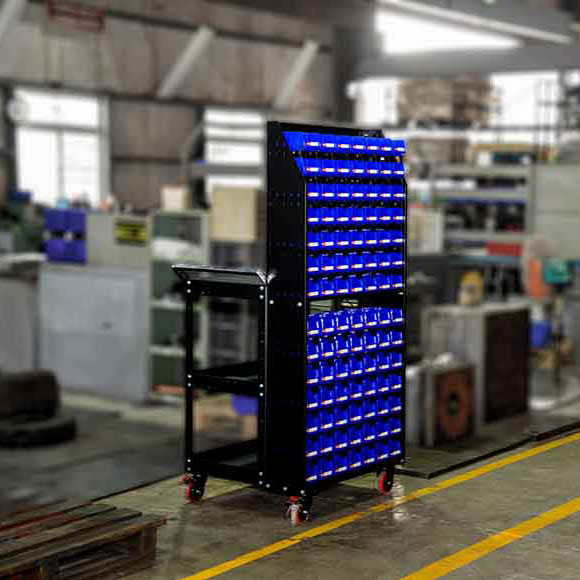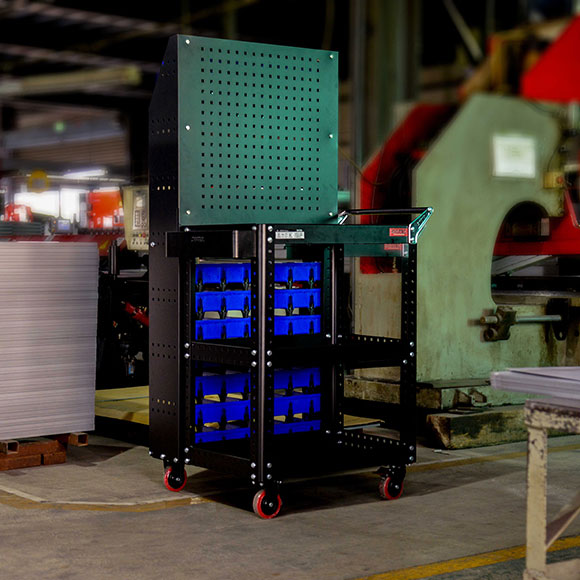 A standard tool cart plus a pegboard transforms it into a mobile tool storage stand for creative storage of tools and parts. The tool cart or tool stand comes with 98 hanging bins (HB-200) for storing your tools and part, and you can organize them with ease.

Double-sided, multi-use SHUTER tool cart that makes it easy and convenient to access to all your tools and parts anywhere in your workspace.

SHUTER advanced super-strong tool trolleys have evolved over time to be a reinforced product for industrial use.

A creative design feature is the multi-purpose shelving: flat on one side and with a solid safety edge on the other.
Features
Heavy duty tool cart with 2 two-way shelves and two-sided backboard.
Includes 98 HB-220 bins.
High quality powder coated 1.2 mm thick galvanized steel.
Useful cart height of just over 1 meter: suitable for sitting or standing work.
Knock-down design for space-saving flat-packed product shipping.
Each shelf can support weights of up to 100 kg (whole product weight limit is 200 kg).
Fitted with oil resistant EVA anti-slip pads.
Specification
● Dimensions: 873 W x 706 D x 1684 H mm
● Package Details:
* Carton A: 900 W x 585 D x 170 H mm (3.16 cu ft)
* Carton B: 776 W x 706 D x 27 H mm (0.52 cu ft)
* Carton C: 1590 W x 230 D x 130 H mm (1.68 cu ft)
* Carton D: 773 W x 206 D x 55 H mm (0.31 cu ft)
* Carton E: 570 W x 333 D x 327 H mm (2.19 cu ft)
● Weight:
* A: NW 26 kg; GW 27.5 kg
* B: NW 4.5 kg; GW 5.3 kg
* C: NW 13 kg; GW 13.7 kg
* D: NW 2.1 kg; GW 2.4 kg
* E: NW 9.6 kg; GW 10.43 kg
● Material: Steel
● Color: Black
Latest News
Shuter Babbuza Dreamfactory Nears Completion

Shuter Enterprise is gearing up to move to a new state-of-the-art factory location by end of 2020.

Read More

SHUTER is Fully Operational: COVID-19 Notice

We are open.

Read More

Shuter Babbuza Dreamfactory Beam Raising Ceremony

On Friday, September 20, 2019, Babbuza Dreamfactory hit a significant milestone…

Read More