Locker for Electronic Device
Cell Phones Locker, Tablets Locker, Metal Locker for Cell Phones, Metal Locker for Tablets, Electronic Device Locker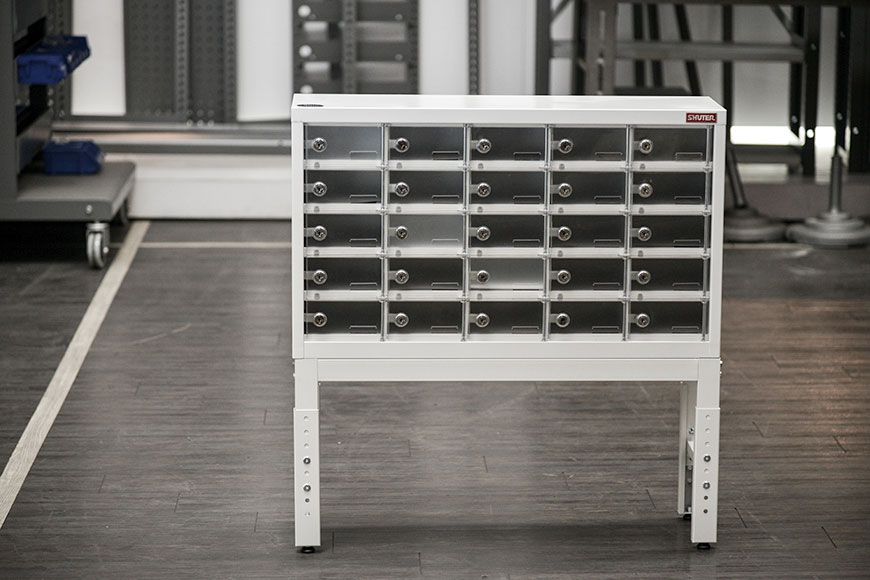 SHUTER's cell phone locker and tablet locker provide a variety of storage drawer options to meet the needs of factories, offices, schools, stations, airports, hospitals, institutes, retail environments, gyms and any place that requires cell phone and tablet storage and management needs. SHUTER cell phone locker provide both metal doors and transparent doors for different applications.

SHUTER's metal lockers for cell phone and tablet comes a combination lock withdifferent 1,000 key combinations and also a key that can cope with a great amount of users to have its own key. Mast key provide great management functions.

SHUTER'S metal cabinet for cell phone and cell phone is made of SECC 0.88mm galvanized alloy sheet with 0.1 mm thicker power coating with great rust and scratch resistance.
---
Latest News
SHUTER is certified to ISO 14051:2011

We are glad to announce that SHUTER is just certified to ISO 14051 (MFCA: Material Flow Cost Accounting).
Under MFCA, the flows and stocks of materials within SHUTER are traced and quantified...

Read More

A good toolbox enhances your working efficiency

The heavy duty design of SHUTER tool boxes developed over years of manufacturing experience cannot be beaten in the marketplace today.
The tool storage box is available with market-leading...

Read More

SHUTER Babbuza Dreamfactory wins DFA Awards

The DFA Design for Asia Awards is a stage upon which design talents and corporations can showcase their design projects internationally.

Congratulation!!
Babbuza Dreamfactory earned SHUTER...

Read More