Antistatic Organizer
ESD Protective Storage for Use in Factories and Warehouses
Looking for antistatic storage solutions to fill a large client order or outfit a new factory?
SHUTER manufacturers a wide variety of antistatic hanging bins and antistatic parts cabinets for tools and small parts that need added protection.

In some electronic products factories, an ESD protection storage protects a circuit from an Electrostatic discharge (ESD), in order to prevent a malfunction or breakdown of an electronic device.

Choose from antistatic drawers in numerous heights and column configurations or antistatic hanging pegboard bins.
All antistatic hanging bins and drawers are made of professional, quality tested particular electric conduction PP plastic and featuring nifty standard additions like label areas, see-through windows, riser legs, and hopper fronts.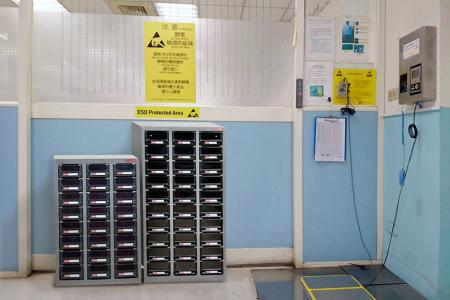 Drawers, Cabinets, and Warehousing Systems for ESD Anti-Static Storage.
More
---
Latest News
SHUTER is certified to ISO 14051:2011

We are glad to announce that SHUTER is just certified to ISO 14051 (MFCA: Material Flow Cost Accounting).
Under MFCA, the flows and stocks of materials within SHUTER are traced and quantified...

Read More

A good toolbox enhances your working efficiency

The heavy duty design of SHUTER tool boxes developed over years of manufacturing experience cannot be beaten in the marketplace today.
The tool storage box is available with market-leading...

Read More

SHUTER Babbuza Dreamfactory wins DFA Awards

The DFA Design for Asia Awards is a stage upon which design talents and corporations can showcase their design projects internationally.

Congratulation!!
Babbuza Dreamfactory earned SHUTER...

Read More