Tool Chest with 16 drawers & siding pegboard, Height 880 mm
CT-A616
Tool Cart with 16 square box drawers & siding pegboard, Height 880 mm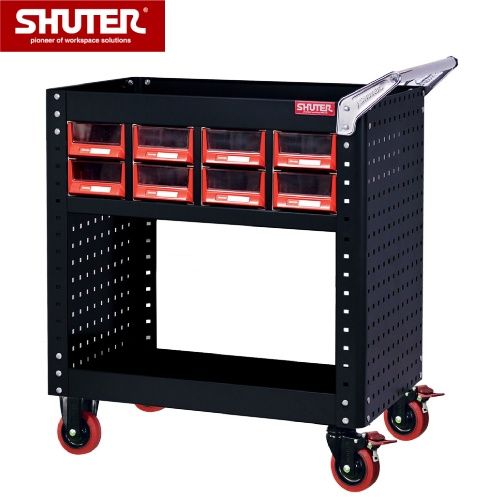 SHUTER tool chests have been developed for the transport and storage of materials used in manufacturing, and over the years, our designs have been improved to guarantee that these hand-carts meet the high standards of strength and durability needed in factory or production settings.

SHUTER tool carts feature multipurpose shelvin and include 16 A6V drawers, 4" TPR noiseless casters (2 fitted with brakes) and a steel handle for easy move-ability.

This handy tool cart from SHUTER combines heavy duty drawers with globally compatible pegboard siding for the ultimate in portable tool storage.
Features
High quality powder coated 1.2 mm thick galvanized steel.
Compact cart height of just under 1 meter: suitable for smaller workspaces.
Knock-down design for space-saving flat-packed product shipping.
Each shelf can support weights of up to 100 kg (whole product weight limit is 200 kg).
Siding pegboard
Both sides have globally compatible square hole pegboard for hanging tools.
Flexible usage of worktop
Flip the top shelf to use as a worktop. The tool cart can have more flexible usage according to your needs.
Integrated steel handle
SHUTER tool cart adopts integrated steel handle to enhance structural integrity of cart.
Tool cart with smooth drawers for storage
This tool cart has 8 drawers one side, says total 16 drawers, SHUTER A6V style drawers.
4" TPR noiseless casters
The tool cart attaches 4" TPR noiseless casters, 2pcs with brakes. The TPR casters are not easy to wear and have shock-absorbing effect. The noiseless casters are also silent and won't leave black marks on the floor.
Oil resistant EVA anti-slip pad
Shelves fitted with a 3 mm thick pad which is grease resistant, anti-corrosion and slip-proof.
Height-adjustable shelves
The height of shelves could be adjusted by side with pegboard siding square holes.
Side tray of tool cart
SHUTER's tool cart includes a removable tray for more storage space.
Optional parts
The tool cart has wide variety of backboards for option.
Specification
Dimensions: 850 W x 550 D x 880 H mm
Material: Steel, ABS
Color: Black with Vibrant Red ABS Drawers
Packing Details
1 pc/ carton
Carton size: 845 W x 615 D x 830 H mm
N.W.: 39.5 kg
G.W.: 44.5 kg
Cuft: 15.23 cuft
Gallerys
Related Products

---

Catalog Download

---

SHUTER professional ultra heavy duty tool carts, tool chests, and tool trollies offer the ideal mobile storage solution for the organization of all kinds of industrial workspaces. These tool chests are made of high quality Japanese galvanized steel sheet. The in-house designed and quality tested organization products can be configured to suit user need. SHUTER tool carts have a wide variety of drawer and backboard combinations to choose from. All tool chests are fitted with TPR lockable casters, and some tool carts are knock down design for cost-saving shipping and warehousing.

---

---
Latest News
Shuter Babbuza Dreamfactory Nears Completion

Shuter Enterprise is gearing up to move to a new state-of-the-art factory location by end of 2020.

Read More

SHUTER is Fully Operational: COVID-19 Notice

We are open.

Read More

Shuter Babbuza Dreamfactory Beam Raising Ceremony

On Friday, September 20, 2019, Babbuza Dreamfactory hit a significant milestone…

Read More