Tool Cart with 3 Shelves & 3 drawers, Height 1,070 mm
CT-2C32A
Tool Trolley with 3 Shelves & 3 drawers, Height 1,070 mm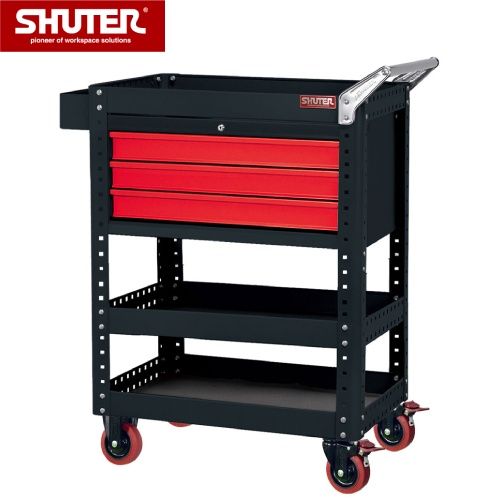 The advanced tool trolleys of SHUTER have a distinctive strengthened structure that ensures tool carts meet the high strength and durability must-haves needed in workplaces like garages or factories.

The tool chests have ultra compact and versatile basic flat shelving on one side, then flip to reveal sturdy safety-rim shelving on the other side.

SHUTER combines over fifty years of manufacturing know-how with contemporary design trends and market research to create the best in mobile tool storage for industry.
Features
Heavy duty tool cart with 2 two-way shelves and 3 drawers.
High quality powder coated 1.2 mm thick galvanized steel.
Useful cart height of just over 1 meter: suitable for sitting or standing work.
Knock-down design for space-saving flat-packed product shipping.
Each shelf can support weights of up to 100 kg (whole product weight limit is 200 kg).
Sold as an easy-to-assemble flat pack.
Features
Specification
Dimensions: 873 W x 500 D x 1070 H mm
Material: Steel
Finish: Powder coated, chip-proof
Color: Black tool cart with red drawer
Origin: Made in Taiwan
MOQ. is required, please contact us.
Lead time: 45~60 days depending on your order quantities.
Packing Details
The tool cart arrives as a flat pack and is bolted together on site.
A tool cart is packed in 2 cartons
Carton A for tool cart: 900 W x 585 D x 170 H mm, 3.16 cuft, N.W.: 26 kg, G.W.: 27.5 kg
Carton B for drawers: 725 W x 550 D x 375 H mm, 5.28 cuft, N.W.: 21 kg, G.W.: 23 kg
Optional Parts
For more applications, there are wide variety of optional backboards and tip out bins available, you can build your own unique tool cart according to your demand, please click the tab of optional parts below for more details, thanks.
Gallery

Videos

Optional Parts

---

Related Products

CT-A616

---

SHUTER tool chests have been developed for the transport and storage of materials used in manufacturing, and over the years, our designs have been improved to guarantee that these hand-carts meet the high standards of strength and durability needed in factory or production settings.SHUTER tool carts feature multipurpose shelvin and include 16 A6V drawers, 4" TPR noiseless casters (2 fitted with brakes) and a steel handle for easy move-ability.This handy tool cart from SHUTER combines heavy duty drawers with globally compatible pegboard siding for the ultimate in portable tool storage.

---

CT-1

---

The tool cart (880mm height) equips the body with an integrated, ergonomic steel handle for quick transfer, as well as a 3mm thick grease resistant, anti-corrosion and slip-proof pad.This tool trolley has 3 shelves, one innovative feature is the multipurpose shelving, the top shelf is simply flat on one side but flip it over to reveal a shelf with a sturdy safety rim.SHUTER highly quality professional ultra-heavy-duty tool trolleys have a distinctive reinforced design that helps to ensure that they meet the high strength and durability standards use in factory settings. A key feature is the 4" TPR casters.Trust SHUTER to build the ultimate solution for portable factory and workspace storage for tools and equipment.

---

CT-2H3D

---

The tool cart equips its body with a locker, three drawers and one shelf for your storage solutions. Moreover, SHUTER tool trolley has square hole pegboard siding for hanging tools or bins.Another SHUTER revolutionary tool cart with the multipurpose shelving feature, having the essentially flat shelves on one side, but when turned over you will find a shelf with a solid safety edge.To engineers, SHUTER tool cart is the very best option for moveable factory and workspace tool organization.

---

---

Catalog

---

SHUTER professional ultra heavy duty tool carts, tool chests, and tool trollies offer the ideal mobile storage solution for the organization of all kinds of industrial workspaces.These tool chests are made of high quality Japanese galvanized steel sheet. The in-house designed and quality tested organization products can be configured to suit user need.SHUTER tool carts have a wide variety of drawer and backboard combinations to choose from.All tool chests are fitted with TPR lockable casters, and some tool carts are knock down design for cost-saving shipping and warehousing.

---

---
Latest News
SHUTER is certified to ISO 14051:2011

We are glad to announce that SHUTER is just certified to ISO 14051 (MFCA: Material Flow Cost Accounting).
Under MFCA, the flows and stocks of materials within SHUTER are traced and quantified...

Read More

A good toolbox enhances your working efficiency

The heavy duty design of SHUTER tool boxes developed over years of manufacturing experience cannot be beaten in the marketplace today.
The tool storage box is available with market-leading...

Read More

SHUTER Babbuza Dreamfactory wins DFA Awards

The DFA Design for Asia Awards is a stage upon which design talents and corporations can showcase their design projects internationally.

Congratulation!!
Babbuza Dreamfactory earned SHUTER...

Read More