Large Tool Chest - Standard Size 1070mm Height with 3 Drawers, 2 Shelves, 4" TPR Casters
CT-2C32A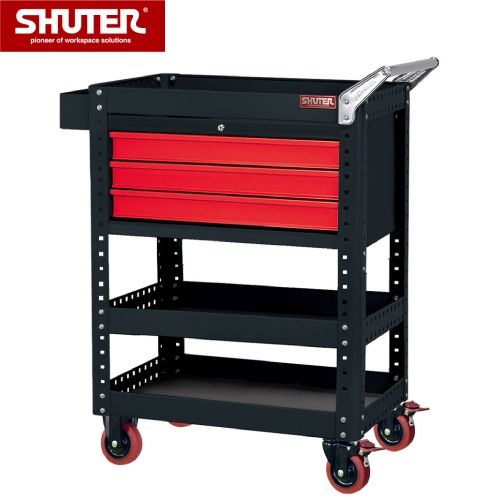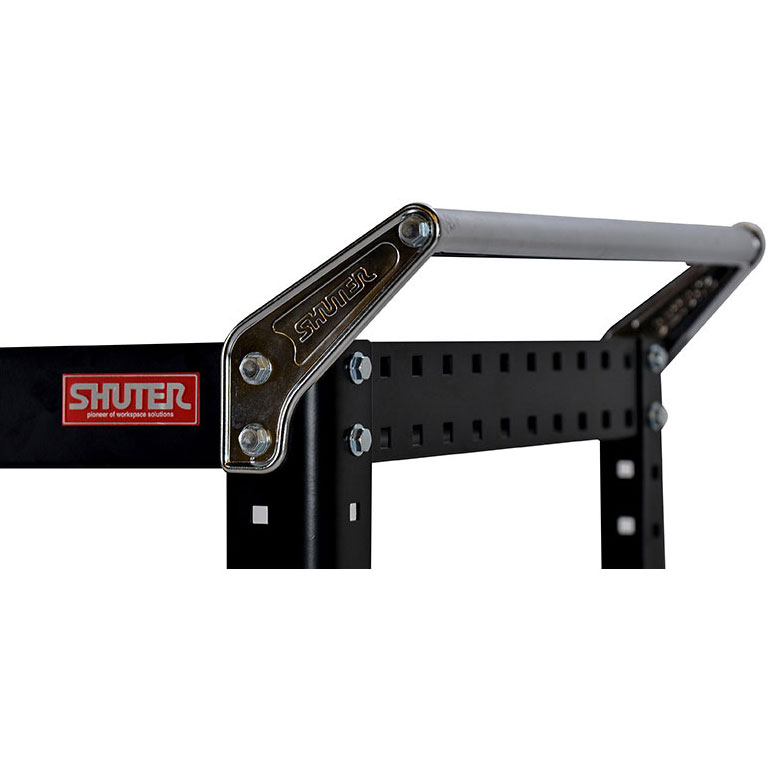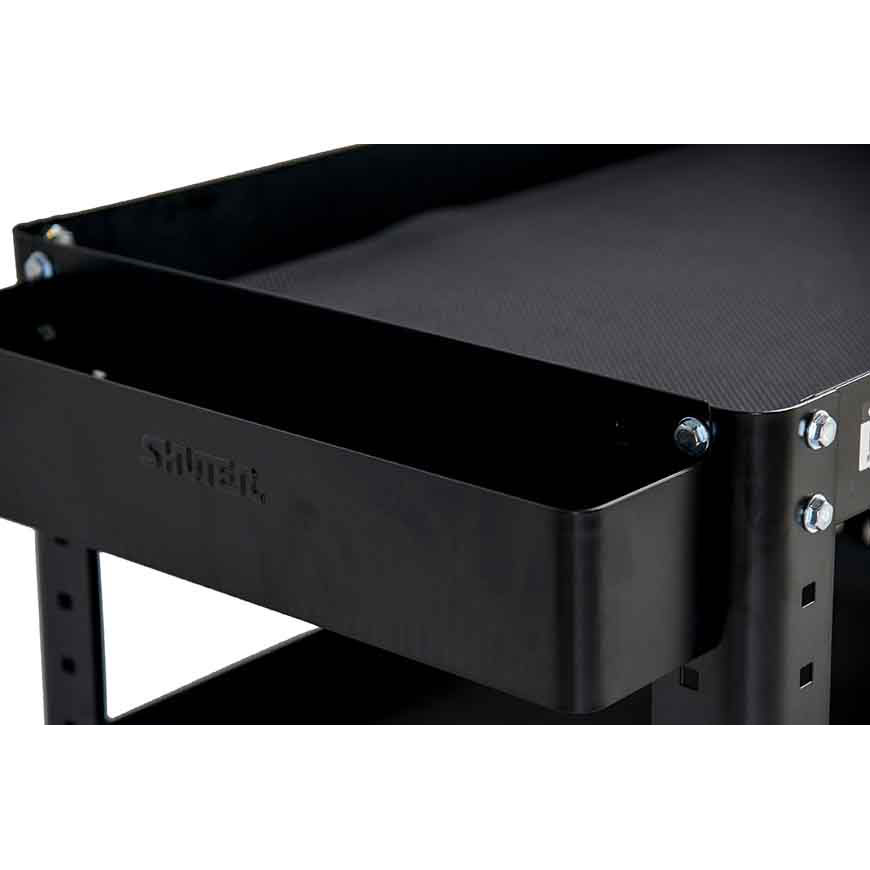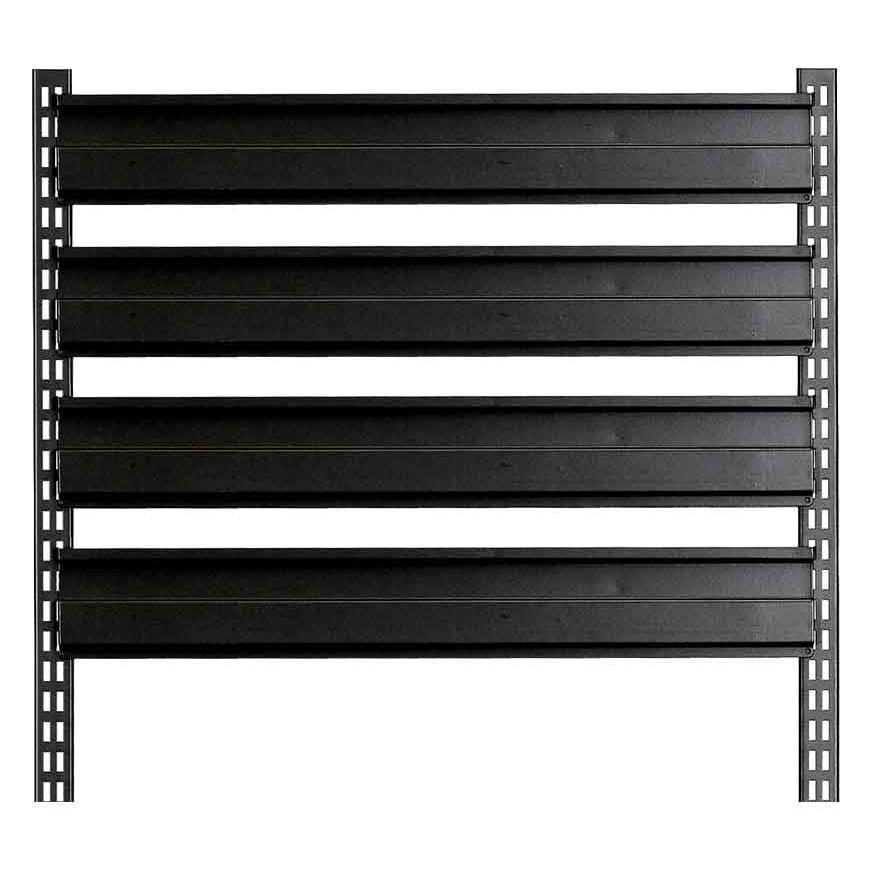 The advanced tool trolleys of SHUTER have a distinctive strengthened structure that ensures they meet the high strength and durability must-haves needed in workplaces like garages or factories. They have an innovative feature: ultra compact and versatile basic flat shelving on one side, then flip to reveal sturdy safety-rim shelving on the other side. Other features include 4" TPR noiseless casters (2 fitted with brakes), a push-pull handle made of steel, and a range of combinations of tool drawers, lockers, square hole pegboard siding and backboards. Also available are mountings for add-ons like hanging bins. SHUTER combines fifty years of manufacturing know-how with contemporary design trends and market research to create the best in mobile tool storage for industry.
Features
Heavy duty tool cart with 2 two-way shelves and 3 drawers.
High quality powder coated 1.2 mm thick galvanized steel.
Useful cart height of just over 1 meter: suitable for sitting or standing work.
Knock-down design for space-saving flat-packed product shipping.
Each shelf can support weights of up to 100 kg (whole product weight limit is 200 kg).
Fitted with oil resistant EVA anti-slip pads.
Wide variety of optional backboards available.
Specification
● Dimensions: 873 W x 500 D x 1070 H mm
● Package Details:
* Carton A: 900 W x 585 D x 170 H mm (3.16 cu ft)
* Carton B: 725 W x 550 D x 375 H mm (5.28 cu ft)
● Weight:
* A: NW 26 kg; GW 27.5 kg
* B: NW 21 kg; GW 23 kg
● Material: Steel
● Color: Black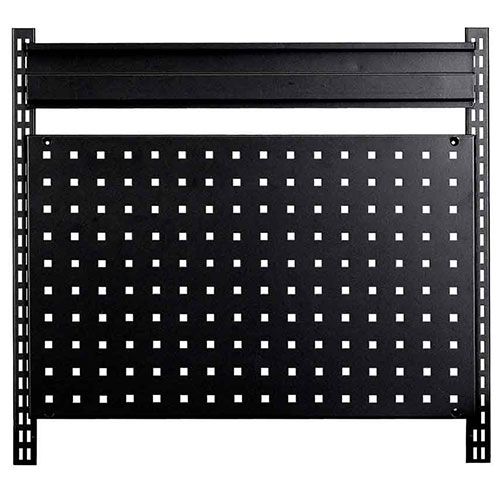 Gallery
Press Release
SHUTER Wraps up Future Forward in June, 2019

SHUTER wraps up Future Forward 2019 buyers' conferences in Vietnam.

Read More

SHUTER Wraps up Future Forward in May, 2019

SHUTER x RECO host Future Forward buyers' conference in Japan.

Read More

SHUTER Wraps up Future Forward in Oct, 2019

SHUTER products tip-top at Taipei AMPA 2019.

Read More