Quality & Certificate
Quality Control of SHUTER
In order to ensure SHUTER product quality is maintained or improved, we created an environment in which both management and employees strive for perfection. Our factory is certified to ISO 9001, ISO 50001 and ISO 14051. Based on a number of quality management principles including strong customers focus, the motivation and implication of top management the process approach and continual improvement, we follow these criteria as our quality management system.

Total quality control that ensure all products are equipped with the highest standards that products are perfectly competitive in the international market.
1. Raw Material (Incoming Quality Control)
All incoming raw material is carefully inspected for quality and appearance using Vernier calipers or specialist material gauges before storage and use. Rejected material is sent back to the material suppliers.
2. Material Storage (FAI and IPQC)
To avoid quality issues, the first article will be made before mass production, and our experienced production engineer will ensure the mass production viability. Our engineers will inspect every production step. All inspected data are recorded on a quality control sheet till completing whole production.
3. Packaging (FQC)
:Our packaging line is rigorously designed to ensure that each packaged batch of products meets exacting standards. This eliminates the risk of foreign objects, breakages, incorrect labeling, and mis-packaged products.
4. Delivery
After our QC engineers ensure the products meet the customer specifications and ISO-9001 requirements, the goods will be shipped to the customers within lead time.
In-House Testing Facilities
Except for the above processes for standard quality control, our fully integrated manufacturing operations and in-house testing facilities allow our quality control team to inspect products at every stage of production. We also did various tests to ensure our quality is better than others, like loading test, cycle test, RoHs match test, lead test, resistance to acid and so on.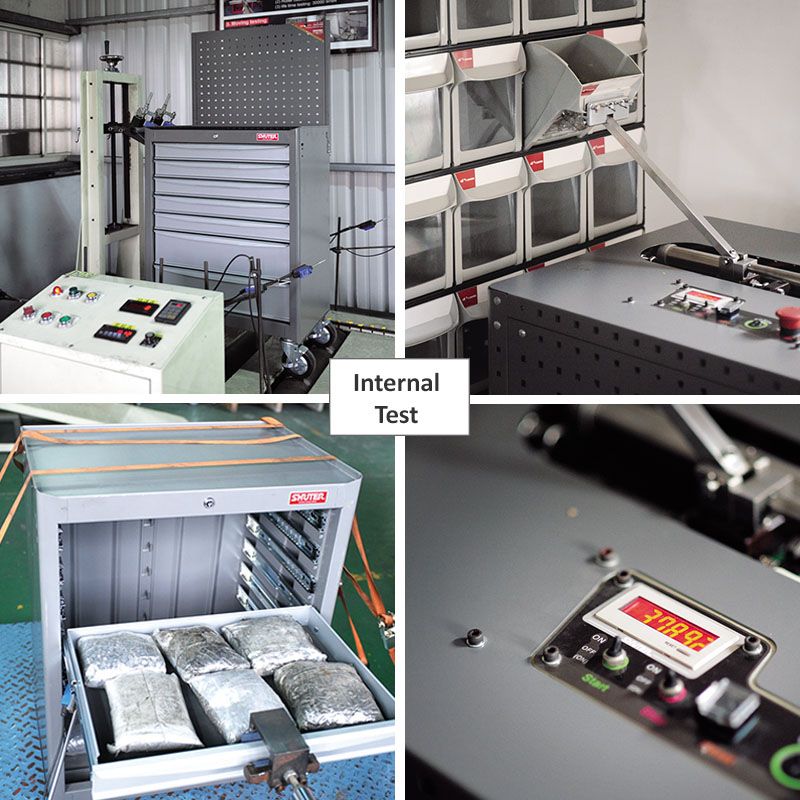 Our Certificates
We are proudly ISO 9001, ISO 50001 and ISO 14051 certified, certified carbon footprint conscious, and have yet to fail a third-party inspection. It is this diligence that keeps our defect rate under 0.01 percent.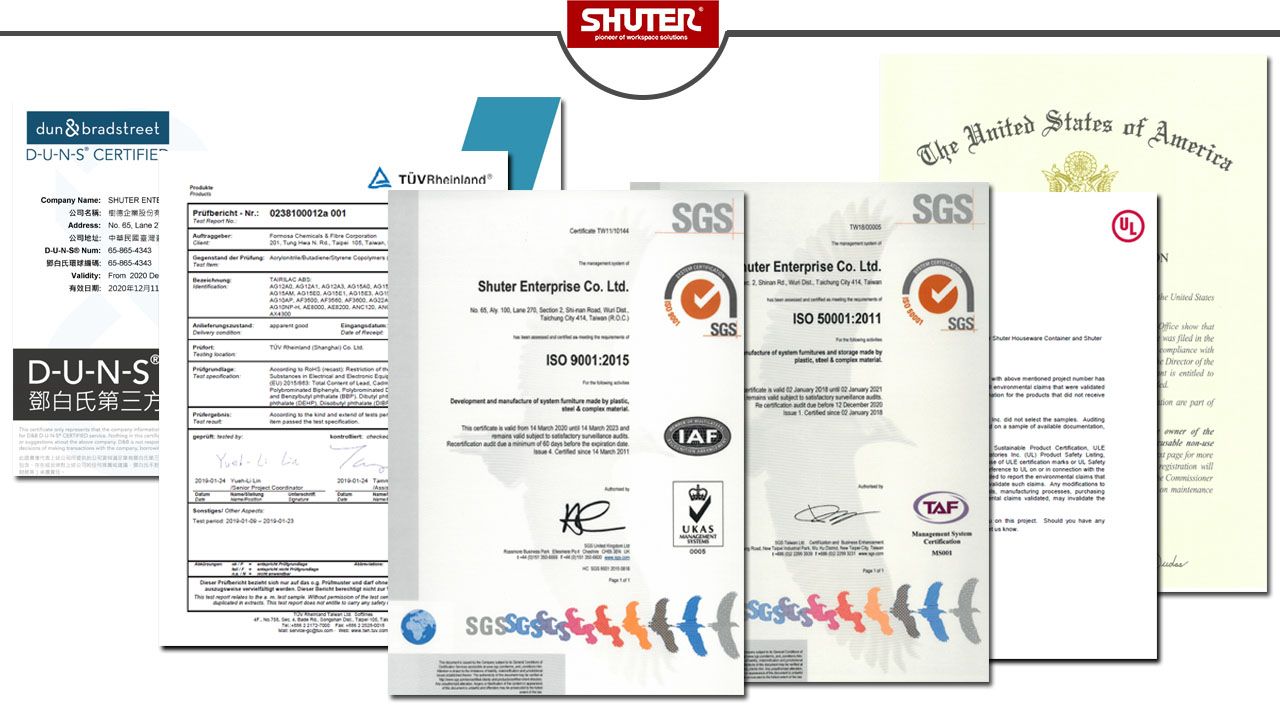 ISO 9001 & ISO 50001
Our factory conforms to ISO 9001 to make sure livinbox consistently meet customer needs and enhance customer satisfaction. We increase productivity and efficiency to provide SHUTER products with best quality. We also conform to ISO 50001 energy management systems, which enable SHUTER production approach in achieving continual improvement of energy performance.
Carbon Footprint Verification
We got Products Carbon Footprint Verification Awards, the desk storage drawers of livinbox series can reduce 7.59g CO2 while producing per item.
Use good mateiral for livinbox products
SHUTER products are crafted from virgin materials. In order to provide stable and durable storage products. With regards to the plastic materials we adopt are non-toxic, recycled, BPA free, DEHP free and no heavy metals. We ask the quality of materials from the origin for qualified products and input 5% renewable materials with high quality for eco-friendly productions. Based on the concept of earth' s continuous development, SHUTER goals to have all productions no air pollution, no drainage pollution and no noise pollution.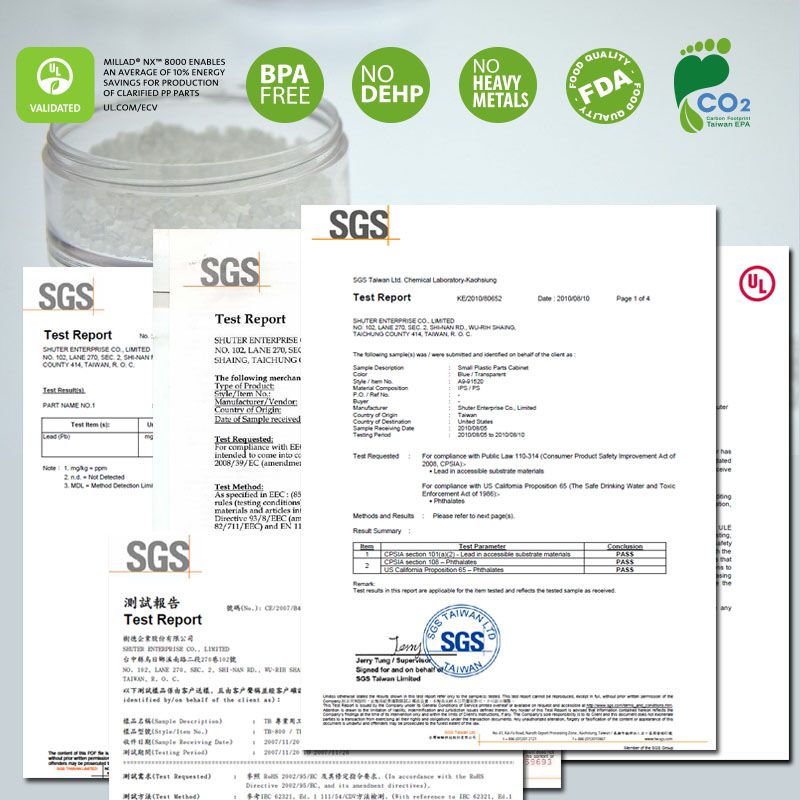 10% energy savings
We are certified by UL Environment Inc. since partial plastic items adapt material named MILLAD NX 8000 that enables an average of 10% energy savings for production of clarified PP parts. The plastic parts are manufactured using 8 to 12% less energy due to clarified technology.
Patents of SHUTER
We draw on over half-a-century of expertise to serve our international clients for storage, organizer and bespoke products. We serve all storage sectors, including metal cabinets of office storage, industrial storage, crafts and stationery storage and household storage. SHUTER is trademarked in numerous countries and regions and our products are internationally patented in the U.S., European Union, Taiwan and Japan. We have owned over 30 patents, which also stand for our ability of R&D and high quality.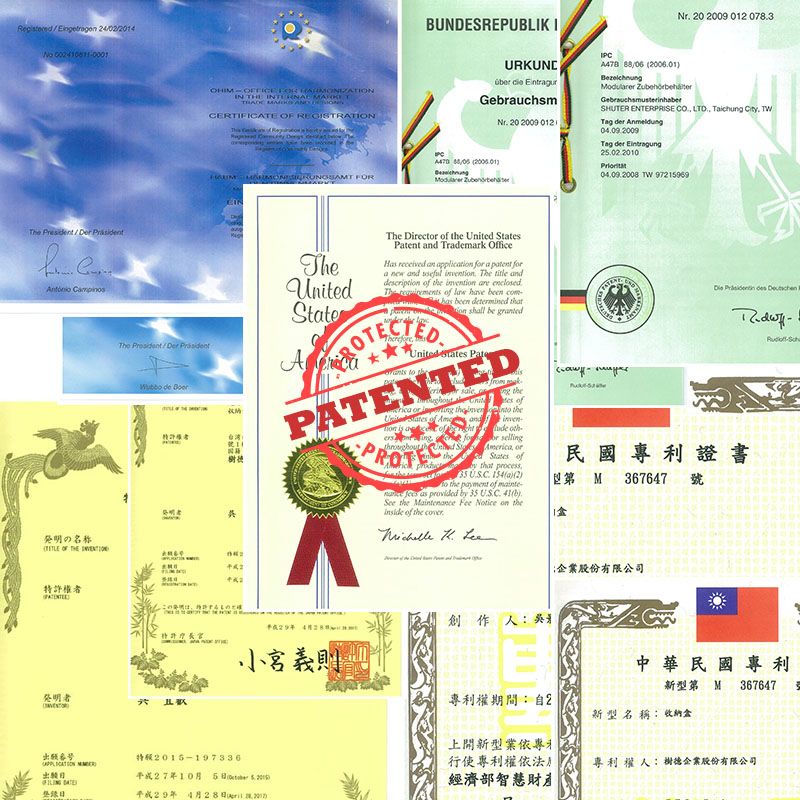 Quality & Certificate | Custom Garage Organization Systems Manufacturer | SHUTER
Located in Taiwan since 1969, SHUTER Enterprise Co. Ltd has been a manufacturer of office and industrial storage cabinets. Their modern storage cabinets include, office storage and filing systems, garage storage and organization systems, CNC vertical machine tool carousel storage, lockable storage cabinets, custom metal garage cabinets, tool chest workbenches and garage tool storage, which are manufactured with 100 - 1,000 ton injection molding machines operating 24 hours a day alongside over 50 punching and bending machines used to produce high-quality storage systems.
With over 250 employees, SHUTER works around the clock to design, manufacture, and deliver high quality plastic and steel storage products to our extensive global network of distributors, trading and retail partners, and e-commerce customers. SHUTER redefines the appearance and functionality of traditional storage systems, striking a balance between attractive exteriors and usable interiors.
SHUTER has been offering customers high-quality office and industrial storage systems since 1969, both with advanced technology and 54 years of experience, SHUTER ensures each customer's demands are met.
View our quality storage systems
Metal Locker
,
Metal Storage Locker
,
Storage Cabinet
,
Office Storage Credenza
,
Office Storage with Casters
,
File Cabinet
,
Office Bookcase
,
CNC Tool Storage Trolley
,
Workbench
,
Metal Tool Cabinet
,
Flip Out Bin
,
Hanging Bin
,
Tool Box
,
Tool Chest
,
ESD Antistatic Metal Storage Tool Cabinet
,
CNC Tool Holder Rack
and feel free to
Contact Us
.
Latest News
SHUTER is certified to ISO 14051:2011

We are glad to announce that SHUTER is just certified to ISO 14051 (MFCA: Material Flow Cost Accounting).
Under MFCA, the flows and stocks of materials within SHUTER are traced and quantified...

Read More

A good toolbox enhances your working efficiency

The heavy duty design of SHUTER tool boxes developed over years of manufacturing experience cannot be beaten in the marketplace today.
The tool storage box is available with market-leading...

Read More

SHUTER Babbuza Dreamfactory wins DFA Awards

The DFA Design for Asia Awards is a stage upon which design talents and corporations can showcase their design projects internationally.

Congratulation!!
Babbuza Dreamfactory earned SHUTER...

Read More