Steel Cabinet with Drawer
Heavy Duty Steel Drawer Cabinets Designed for Storing Industrial Hardware, Small Parts, and Tools
When it comes to durability in heavy duty industrial workplaces, SHUTER's steel cabinets with drawers for small parts storage cannot be beaten.

These steel cabinets are manufactured in an incredible array of size and grease proof POM or durable ABS drawer combinations

The storage cabinets can be tailored to suit the needs of a wide variety of working or storage environments.
The cabinet body is finished in either powder coated steel or scratch resistant paint and fitted with corner guards for user safety.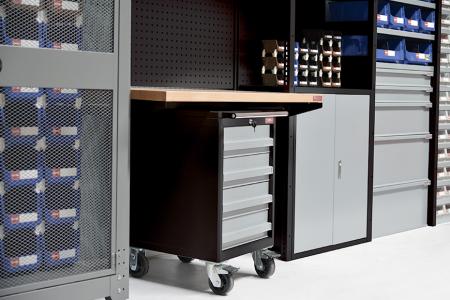 Steel Storage Cabinets and Trollies for tools and parts storage in rough and tumble industrial environments
More
---
Latest News
SHUTER is certified to ISO 14051:2011

We are glad to announce that SHUTER is just certified to ISO 14051 (MFCA: Material Flow Cost Accounting).
Under MFCA, the flows and stocks of materials within SHUTER are traced and quantified...

Read More

A good toolbox enhances your working efficiency

The heavy duty design of SHUTER tool boxes developed over years of manufacturing experience cannot be beaten in the marketplace today.
The tool storage box is available with market-leading...

Read More

SHUTER Babbuza Dreamfactory wins DFA Awards

The DFA Design for Asia Awards is a stage upon which design talents and corporations can showcase their design projects internationally.

Congratulation!!
Babbuza Dreamfactory earned SHUTER...

Read More