Office Storage Credenza for Shoes or Office Storage - 18 Small Doors in 3 Columns
SC-318S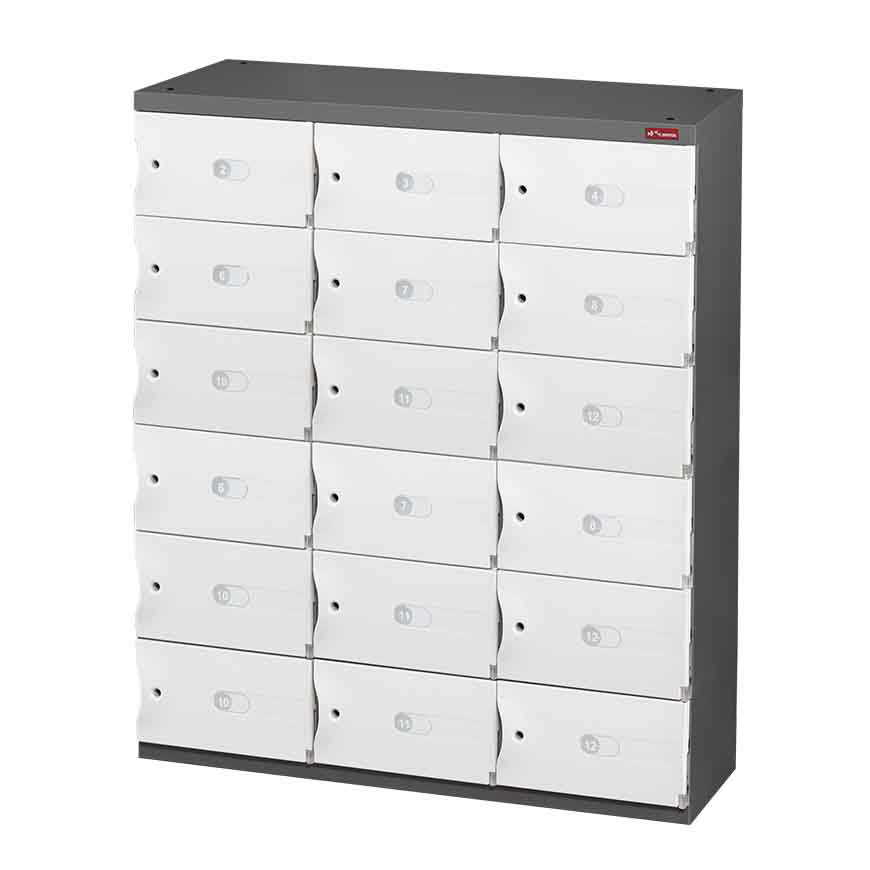 Horizontally aligned doors mean this series of SHUTER steel storage credenzas can fit all kinds of wide dimension objects. Each cabinet features strong "plastic steel" ABS doors with magnetic closures, three built-in interior hooks, and stretchy-material cords for holding items securely against the back of the door. Make sure bad smells are not trapped inside by keeping the ventilation holes clear, or choose to install an SC03 door-reduction device, which SHUTER can provide on customer request. Change colors per your order if desired.
Features
Multi-functional cabinet with 18 S-style lock-and-key doors.
Doors feature built-in hooks.
Patented door design.
Magnetized doors close securely.
Ventilation holes reduce odors.
Color can be customized.
Specification
Dimensions: 890 W x 350 D x 1040 H mm
Package Details: 1 pc / 1 ctn (894 W x 364 D x1040 H mm / 11.95 cu ft)
Weight: NW 32.60 kg; GW 33.26 kg
Material: Galvanized Steel, ABS
Color: Black Body and Snow White Doors
Gallery
Press Release
SHUTER Wraps up Future Forward in June, 2019

SHUTER wraps up Future Forward 2019 buyers' conferences in Vietnam.

Read More

SHUTER Wraps up Future Forward in May, 2019

SHUTER x RECO host Future Forward buyers' conference in Japan.

Read More

SHUTER Wraps up Future Forward in Oct, 2019

SHUTER products tip-top at Taipei AMPA 2019.

Read More