Wall-Set Wall & Locker Tool Organization System
WS-Workstation
Wall-Set Wall & Locker Tool Organization System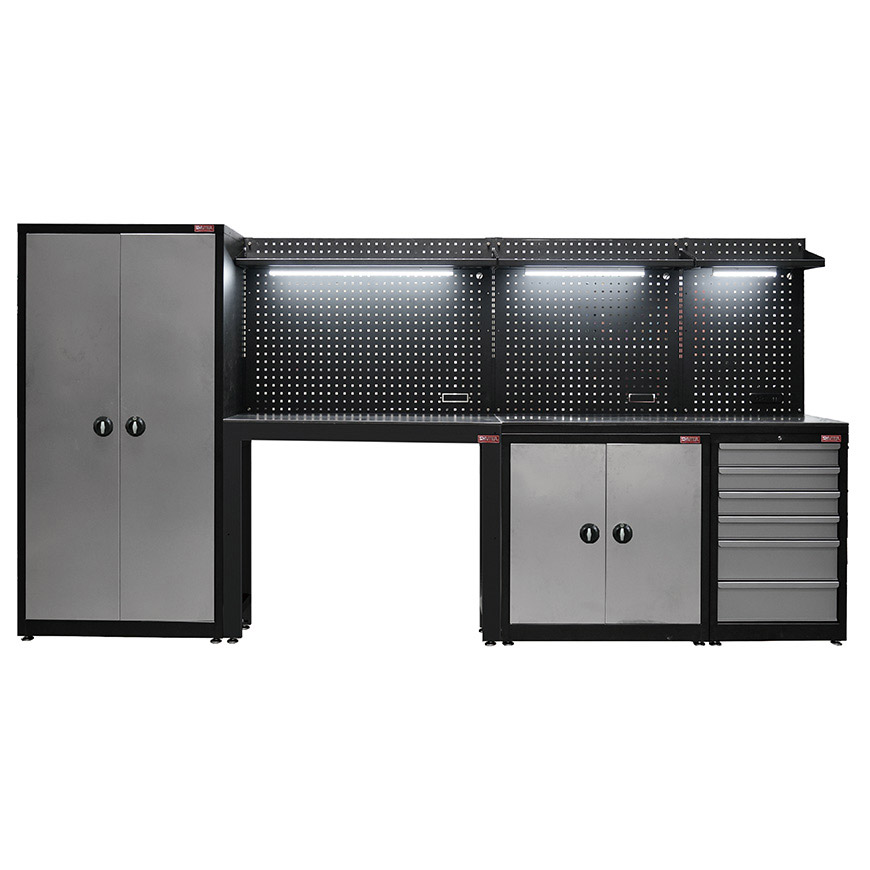 SHUTER steel workstations are an all-in-one solution to your industrial storage and organization woes.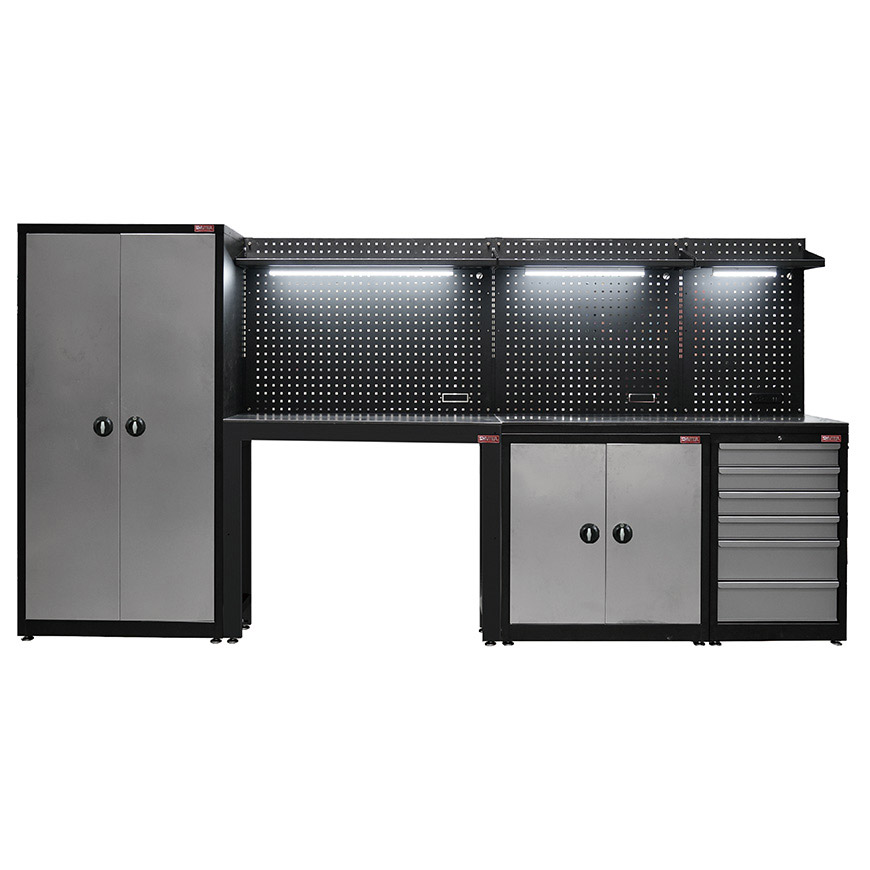 This unique SHUTER wall-mountable workstation (WS series) includes two sets of two-door lockers, a compact workbench, and a heavy-duty cabinet. Split the tool trolley for seperate use or continue to use it as part of the entire set. Other parts can also be shifted around in a modular fashion depending on where you want them and how you need to use them. Add any items in the SHUTER HK hook or HK tool hanger accessories range to increase storage options for tools, parts, and materials. The benchtop is high impact and resists collisions.
Features
Flat pack, knock down design for easier, cheaper transportation, storage, and on-site assembly.
Hybrid powder coating for excellent corrosion resistance.
Adjustable shelf height.
Two-door lockers include four interior shelves (large cabinet) and 2 interior shelves (compact cabinet) - loading capacity of each shelf is 200 kg.
Collision resistant pad on worktop resists high impacts - loading capacity of 600 kg.
Industry standard square-hole pegboard.
Backboard with flat-hanger plate set, LED lighting, and power outlets included.
Add optional items from SHUTER HK accessories series.
Specification
WS-LC (Locker)
● Dimensions: 900 W x 570 D x 1840 H mm
● Package Details: 1 pc / 1 ctn (960 W x 590 D x 1815 H mm = 35 cu ft)
● Weight: NW 71.66 kg; GW 75 kg
● Material: Steel
● Color: Black

WS-ATI12
● Dimensions: 1200 W x 620 D x 1840 H mm
● Package Details: 8 ctns total
● Weight: NW 55.45 kg; GW 67.11 kg
● Material: Steel
● Color: Black

WS-ALI09
● Dimensions: 900 W x 620 D x 1840 H mm
● Package Details: 6 ctns total
● Weight: NW 73 kg; GW 87 kg
● Material: Steel
● Color: Black

WS-ADI06
● Dimensions: 600 W x 620 D x 1840 H mm
● Package Details: 6 ctns total
● Weight: NW 84.25 kg; GW 94.87 kg
● Material: Steel
● Color: Black
Gallery
Latest News
SHUTER is certified to ISO 14051:2011

We are glad to announce that SHUTER is just certified to ISO 14051 (MFCA: Material Flow Cost Accounting).
Under MFCA, the flows and stocks of materials within SHUTER are traced and quantified...

Read More

A good toolbox enhances your working efficiency

The heavy duty design of SHUTER tool boxes developed over years of manufacturing experience cannot be beaten in the marketplace today.
The tool storage box is available with market-leading...

Read More

SHUTER Babbuza Dreamfactory wins DFA Awards

The DFA Design for Asia Awards is a stage upon which design talents and corporations can showcase their design projects internationally.

Congratulation!!
Babbuza Dreamfactory earned SHUTER...

Read More