Steel File Cabinet with 18 plastic drawers in 1 column for A4 paper
A4-118P
Filing Cabinet - 18 Pieces of A4 Size Shallow Drawers in 1 Column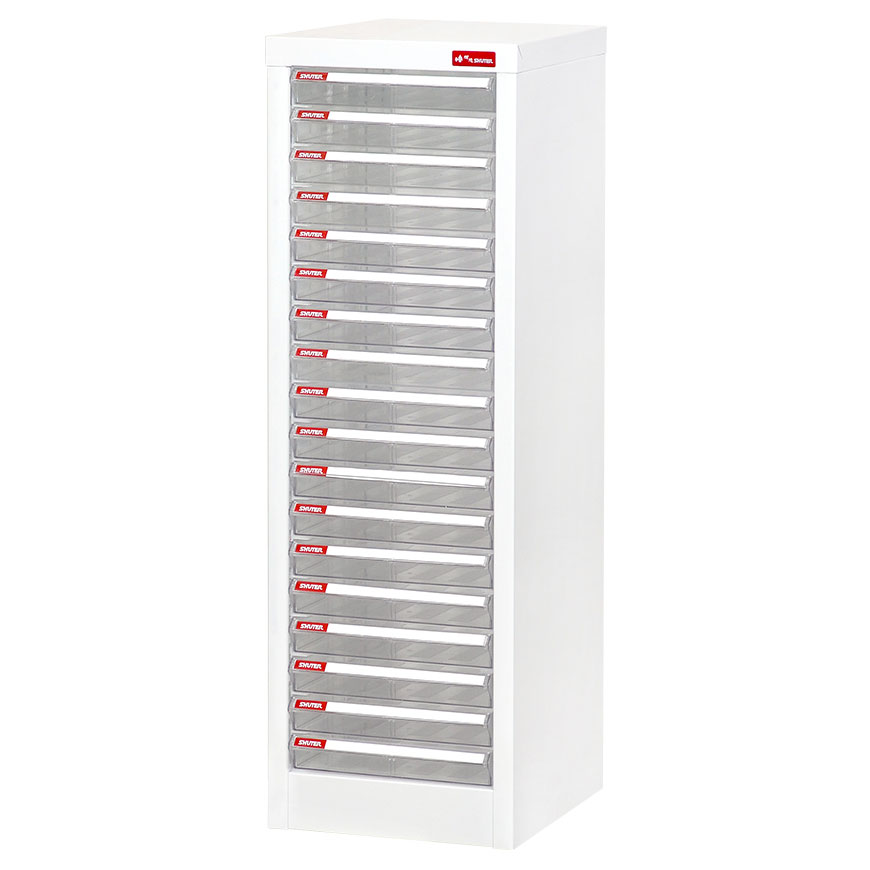 Steel cabinet with multiple transparent drawers for the most efficient desktop storage on the market.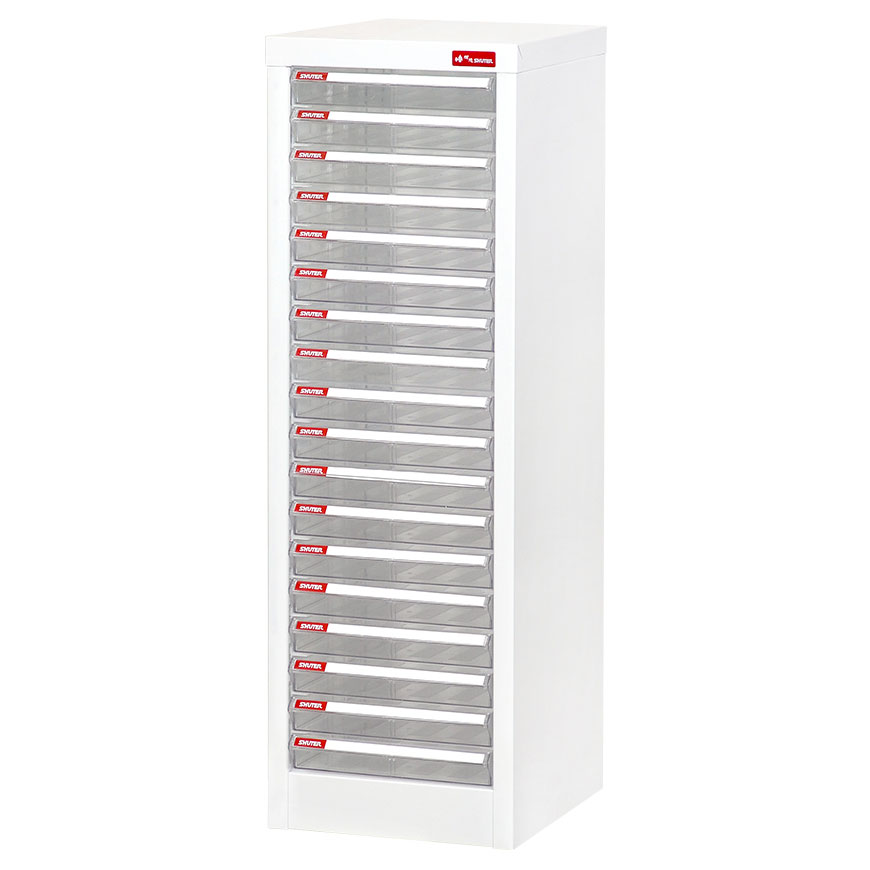 Consumers and corporate customers alike are always satisfied with SHUTER's range of classic, time-tested office filing cabinets and desktop storage systems. Designed for efficiency, the cabinets in this reliable SHUTER storage product series are crafted from high quality, rust-resistant powder-coated SECC 0.7 mm galvanized steel alloy sheet. Drawers are available in two colors, transparent and snow white, and are made of high impact GPS to reduce breakages. Choose our multi-drawer file cabinets and plastic drawer storage cabinets with a wide selection of smooth-slide, unbreakable drawers with label area if you are truly commitment to improving your working efficiency.
Features
With 18 pieces of A4-P drawers.
Fits A4 sized documents.
Smooth-slide drawers with built-in pulls and stoppers.
Material is high endurance, anti-rust, and eco-friendly.
Index cards included.
Lock available on some items or to order.
Optional SHUTER logo.
Color can be customized.
Specification
Dimensions: 285 W x 343 D x 880 H mm
Package Details: 1 pc / 1 ctn (375 W x 412 D x 957 H mm / 5.22 cu ft)
Weight: NW 12.78 kg; GW 15.13 kg
Material: galvanized Steel, GPS/IPS
Color: White Body with Transparent / Snow White Drawers
Latest News
SHUTER is certified to ISO 14051:2011

We are glad to announce that SHUTER is just certified to ISO 14051 (MFCA: Material Flow Cost Accounting).
Under MFCA, the flows and stocks of materials within SHUTER are traced and quantified...

Read More

A good toolbox enhances your working efficiency

The heavy duty design of SHUTER tool boxes developed over years of manufacturing experience cannot be beaten in the marketplace today.
The tool storage box is available with market-leading...

Read More

SHUTER Babbuza Dreamfactory wins DFA Awards

The DFA Design for Asia Awards is a stage upon which design talents and corporations can showcase their design projects internationally.

Congratulation!!
Babbuza Dreamfactory earned SHUTER...

Read More