Single-Sided Mobile Stand on Casters with 8 Sets of Mixed Size Flip Out Bin Drawers
MS-1M000
Single-Sided Mobile Stand on Casters with 8 Sets of Mixed Size Flip Out Bin Drawers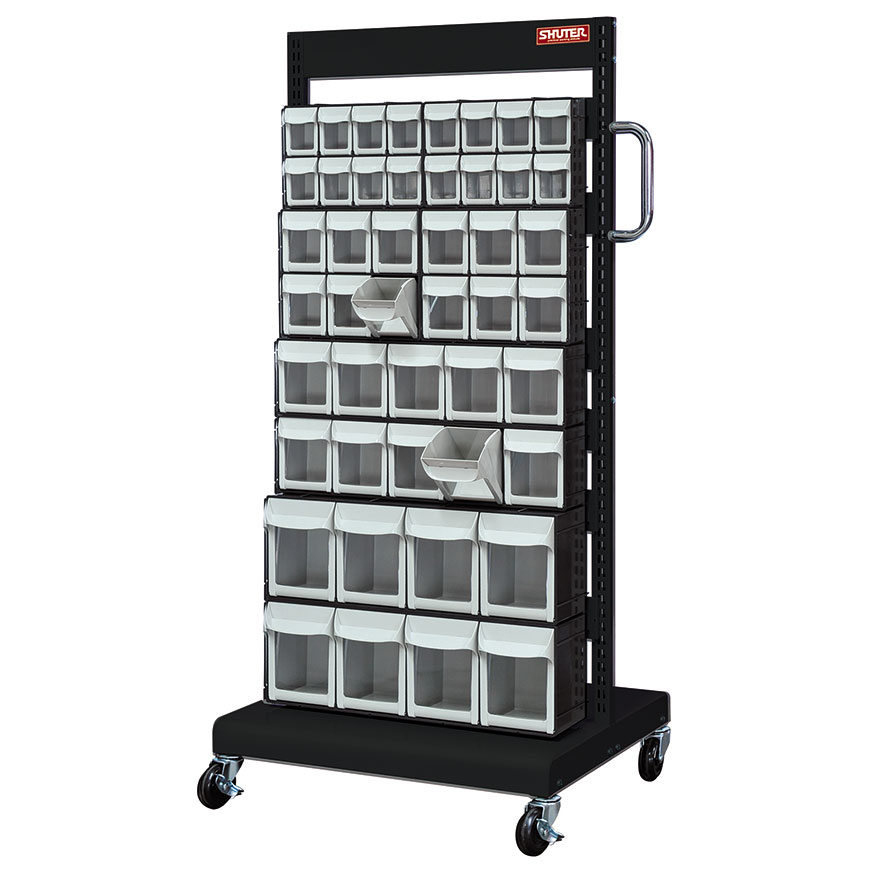 A rack-and-wheel system that sorts SHUTER mobile flip out bins for the most efficient storage systems available.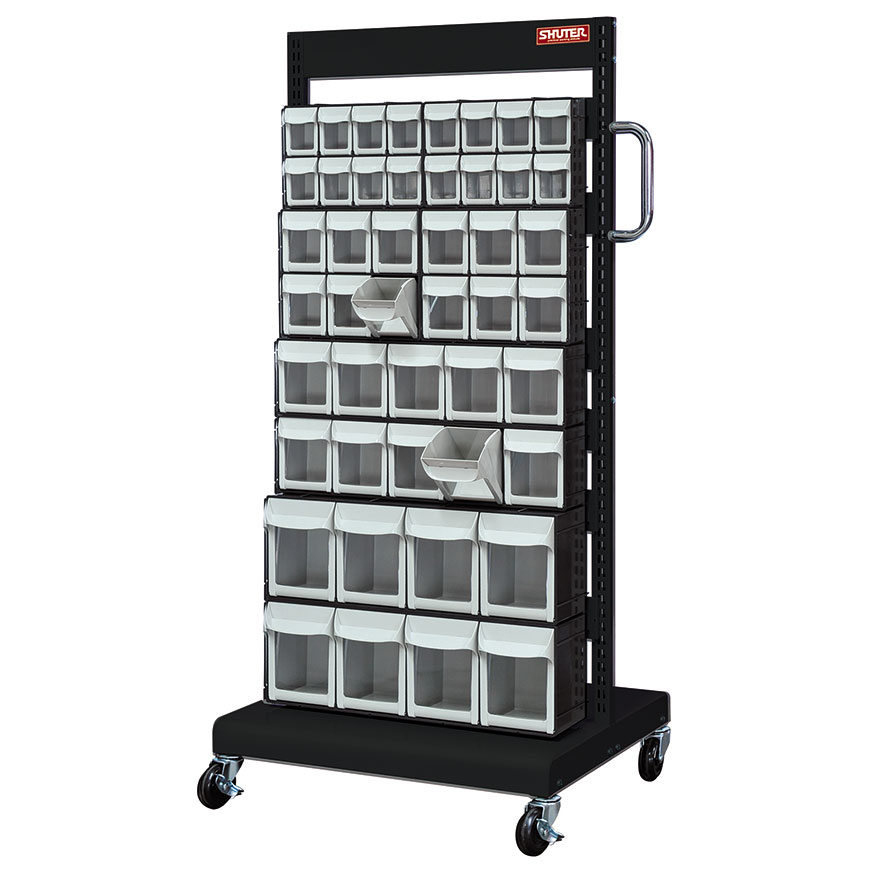 Combine the moveability of a heavy duty wheel base with the accessibility of a drop-down or pull out drawer storage system with SHUTER's MS series of mobile quick flip out bins. There are eight pre-set units available, which come either single or double-sided. Fit with any of the small parts bin set numbers or capacities that you want to make a storage system that suits your space or needs. This unique style stand is crafted from chip-proof, rust-resistant galvanized steel and the bins are SGS loading tested. The entire unit is delivered flat pack to save you money in shipping and warehousing.
Features
Heavy duty mobile stand features 8 sets of FO series flip out bins (2 sets each of FO-308, FO-306, FO-604, FO-605) on a single-sided cart.
Mobile stand concept saves space and facilitates easy stock management.
Durable ABS bins feature transparent PS windows and a label area.
4 industrial strength casters (2 fitted with brakes).
Highly portable with casters and sturdy handle for easy on-site assembly and relocation.
Mix-and-match with SHUTER flip out bins and hanging bins for more storage options.
Body and bin color can be customized.
Specification
Dimensions: 690 W x 560 D x 1460 H mm
Package Details: 1 pc / 1 ctn (1417 W x 802 D x 355 H mm / 3.65 cu ft)
Weight: NW 26.59 kg; GW 30.26 kg
Material: Zinc Plated Steel Alloy, ABS
Color: Black Body with Black Flip Out Bins
Gallery
Latest News
SHUTER is certified to ISO 14051:2011

We are glad to announce that SHUTER is just certified to ISO 14051 (MFCA: Material Flow Cost Accounting).
Under MFCA, the flows and stocks of materials within SHUTER are traced and quantified...

Read More

A good toolbox enhances your working efficiency

The heavy duty design of SHUTER tool boxes developed over years of manufacturing experience cannot be beaten in the marketplace today.
The tool storage box is available with market-leading...

Read More

SHUTER Babbuza Dreamfactory wins DFA Awards

The DFA Design for Asia Awards is a stage upon which design talents and corporations can showcase their design projects internationally.

Congratulation!!
Babbuza Dreamfactory earned SHUTER...

Read More