Mobile Filing Cabinet Office Storage with Wooden Top, Casters - 6 Pieces A4X Size Drawers
A4X-106HM
Mobile Filing Cabinet Office Storage with Wooden Top, Casters - 6 Pieces A4X Size Drawers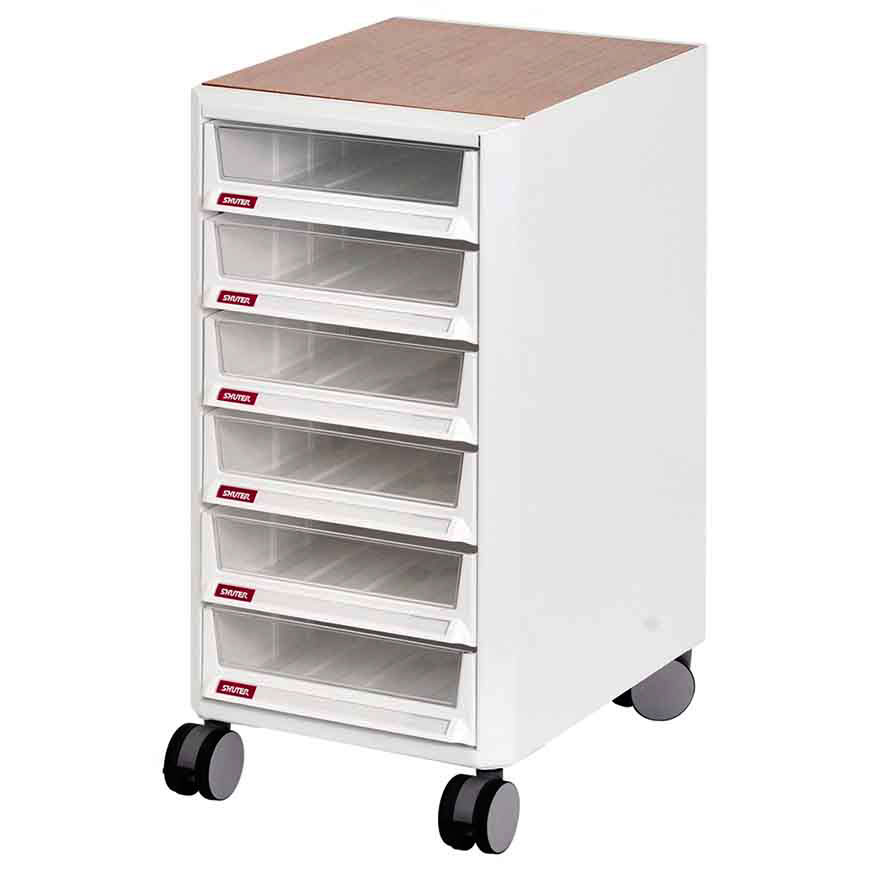 Sturdy drawers dominate this handy mobile storage trolley that is ideally suited to today's open-plan offices.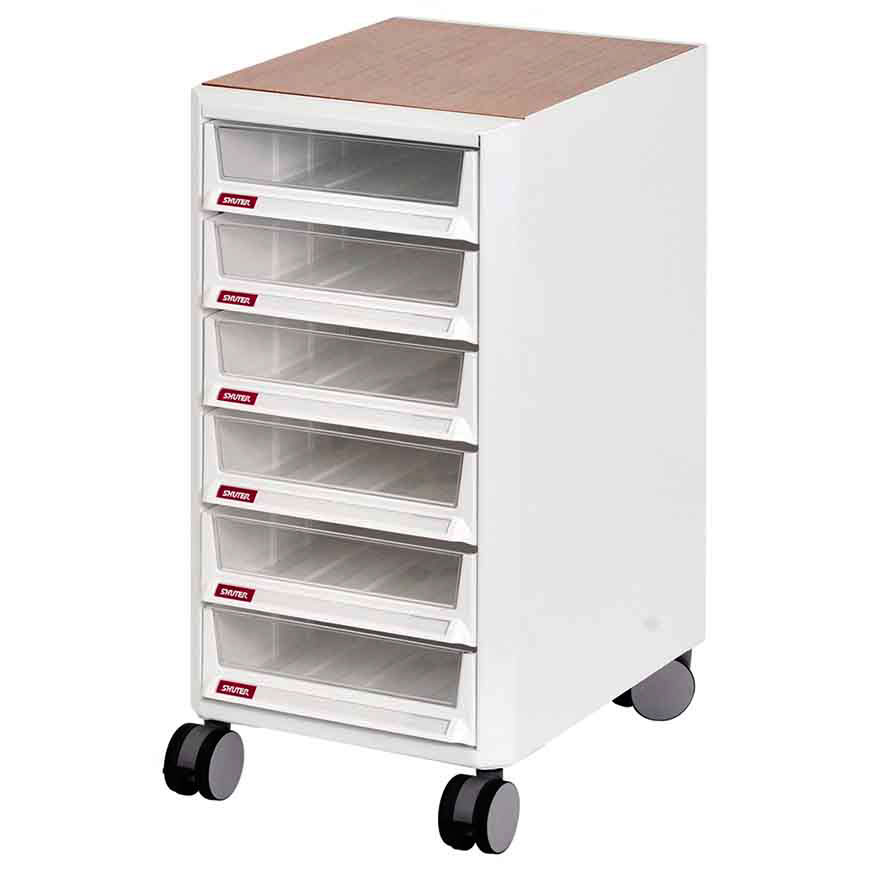 SHUTER's collection of caster-fitted business filing stations fit snugly under desks and neatly in the corner of reception foyers or corporate libraries. Use them to store everything from pens and pencils to reference books. A column of matching drawers with transparent or opaque drawer fronts make organizing documents a breeze, and an attractive wooden detail top doubles means this drawer can double as a workstation. If you need a more secure cabinet, ask if a lock can be added.
Features
Fits A4 and letter size documents.
6 pieces of drawers (in SHUTER A4X design).
4 60 mm non-marking / scratching casters.
Wood detail top doubles as a workspace.
Smooth-slide drawers with built-in pulls and stoppers.
Supports weights of up to 100 kg.
Specification
Dimensions: 315 W x 400 D x 627 H mm
Package Details: 1 pc / 1 ctn (483 W x 408 D x 637 H mm / 4.43 cu ft)
Weight: NW 10.84 kg; GW 12.13 kg
Materials: Steel, IPS, Wood
Color: Snow White Body with Wood
Latest News
SHUTER is certified to ISO 14051:2011

We are glad to announce that SHUTER is just certified to ISO 14051 (MFCA: Material Flow Cost Accounting).
Under MFCA, the flows and stocks of materials within SHUTER are traced and quantified...

Read More

A good toolbox enhances your working efficiency

The heavy duty design of SHUTER tool boxes developed over years of manufacturing experience cannot be beaten in the marketplace today.
The tool storage box is available with market-leading...

Read More

SHUTER Babbuza Dreamfactory wins DFA Awards

The DFA Design for Asia Awards is a stage upon which design talents and corporations can showcase their design projects internationally.

Congratulation!!
Babbuza Dreamfactory earned SHUTER...

Read More