Metal Storage Tool Cabinet for Use in Industrial Workspaces - 15 Drawers in 5 Columns
HD-515
Metal Storage Tool Cabinet for Use in Industrial Workspaces - 15 Drawers in 5 Columns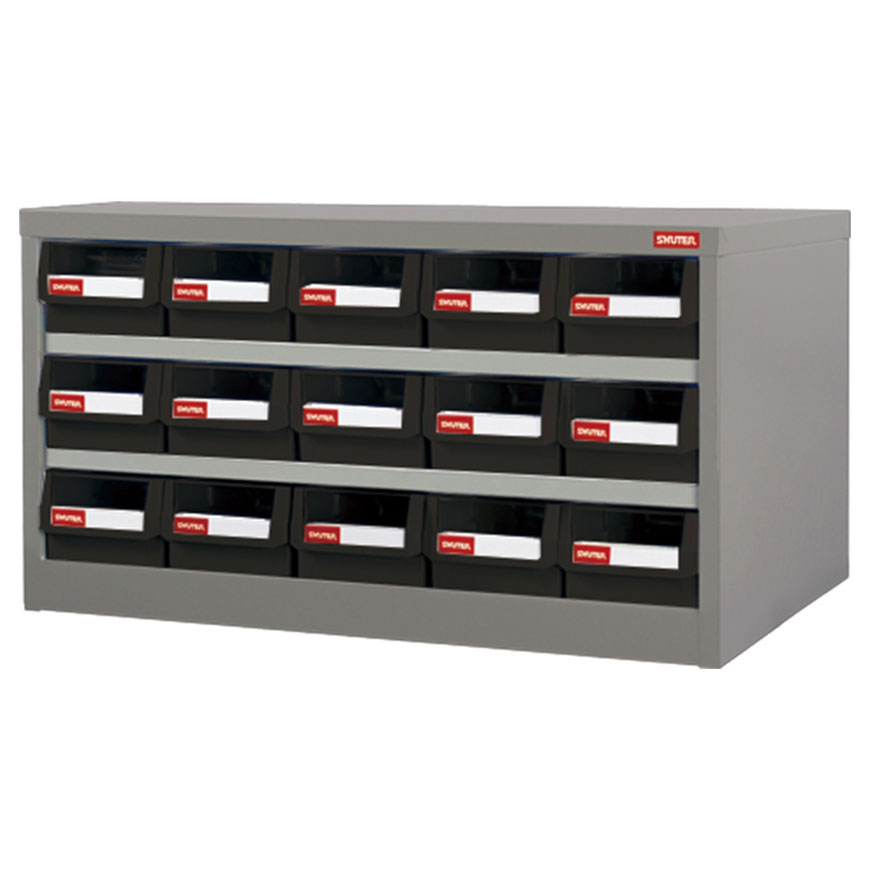 With this fifteen drawer, five column unit, you can totally reinvent the way you currently store small parts. Use SHUTER's HD series to create a more organized, tidier storage system than you have ever had before. The frame of the storage unit is completed in high quality, environmentally stable, powder coated SECC 0.88 mm thick galvanized steel. Each drawer can hold weights of up to 20 kg and can be filled to 5.6L. Choose from ABS material for strength or clear PP to easily catch sight of what is inside each drawer. Each cabinet has guards fitted to the corners and POM drawer tracks. Choose your colors for both cabinet body and drawers.
Features
With 15 pieces of HD-1641 ABS drawers in 5 columns.
Weight limit for each drawer is up to 20kg with a 5.6L capacity.
Body is made of rust-resistant SECC 0.88 mm thick galvanized steel sheet with a 0.1 mm thick high-temperature powder coating.
Fitted with corner guards.
Drawer dividers included for more flexible organization.
Cabinet and drawer color can be customized.
Specification
Dimensions: 880 W x 400 D x 440 H mm
Package Details: 1 pc / 1 ctn (962 W x 487 D x 516 H mm / 8.54 cu ft)
Weight: NW 25.03 kg; GW 28.28 kg
Material: Galvanized Steel, ABS, PS
Color: Dark Gray Body with Black Drawers
Gallery
Latest News
SHUTER is certified to ISO 14051:2011

We are glad to announce that SHUTER is just certified to ISO 14051 (MFCA: Material Flow Cost Accounting).
Under MFCA, the flows and stocks of materials within SHUTER are traced and quantified...

Read More

A good toolbox enhances your working efficiency

The heavy duty design of SHUTER tool boxes developed over years of manufacturing experience cannot be beaten in the marketplace today.
The tool storage box is available with market-leading...

Read More

SHUTER Babbuza Dreamfactory wins DFA Awards

The DFA Design for Asia Awards is a stage upon which design talents and corporations can showcase their design projects internationally.

Congratulation!!
Babbuza Dreamfactory earned SHUTER...

Read More