Metal Mobile Under-Desk Filing Cabinet Office Storage with Casters - 6 Drawers
NCA-DH6H
Metal Mobile Under-Desk Filing Cabinet Office Storage with Casters - 6 Drawers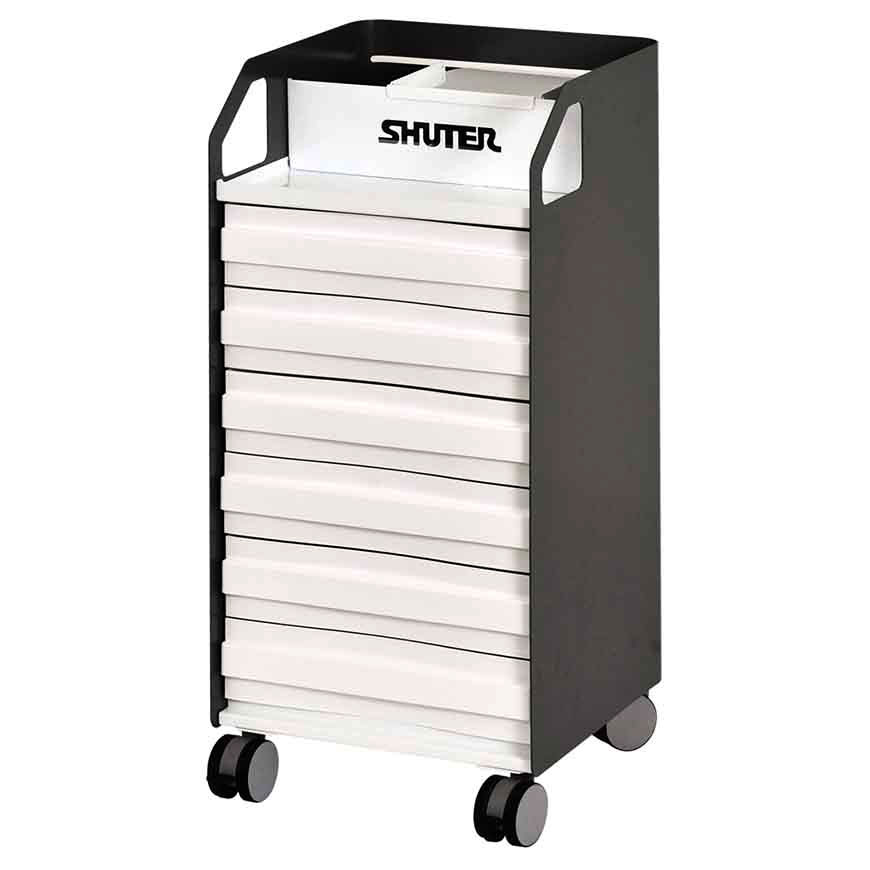 The brilliantly crafted SHUTER SPCC series of metal transportable filing units are embody the strength of industrial storage as well as contemporary aesthetics. These trollies are ideal for storing stationery, electronic devices, files and documents... basically anything you use in an office environment. Conveniently situated handles help you pull the cart around and a full array of six drawers ensure you will never run out of storage space. Order with a lock if needed.
Features
Fits A4 size documents.
6 pieces of drawers (in SHUTER H-style design).
4 60 mm non-marking / scratching casters.
Top-entry storage compartments.
Smooth-slide drawers with built-in pulls and stoppers.
Supports weights of up to 100 kg.
Specification
Dimensions: 333 W x 328 D x 735 H mm
Package Details:1 pc / 1 ctn ( 407 W x 405 D x 758 H mm / 4.41 cu ft)
Weight: NW 14.85 kg; GW 17.65 kg
Materials: Steel, IPS
Color: Dark Gray Body with White Drawers
Latest News
SHUTER is certified to ISO 14051:2011

We are glad to announce that SHUTER is just certified to ISO 14051 (MFCA: Material Flow Cost Accounting).
Under MFCA, the flows and stocks of materials within SHUTER are traced and quantified...

Read More

A good toolbox enhances your working efficiency

The heavy duty design of SHUTER tool boxes developed over years of manufacturing experience cannot be beaten in the marketplace today.
The tool storage box is available with market-leading...

Read More

SHUTER Babbuza Dreamfactory wins DFA Awards

The DFA Design for Asia Awards is a stage upon which design talents and corporations can showcase their design projects internationally.

Congratulation!!
Babbuza Dreamfactory earned SHUTER...

Read More