ESD Antistatic Metal Storage Tool Cabinet for Electronic Devices - 12 Deep Drawers in 2 Columns
CA6V-212H
ESD Antistatic Metal Storage Tool Cabinet for Electronic Devices - 12 Deep Drawers in 2 Columns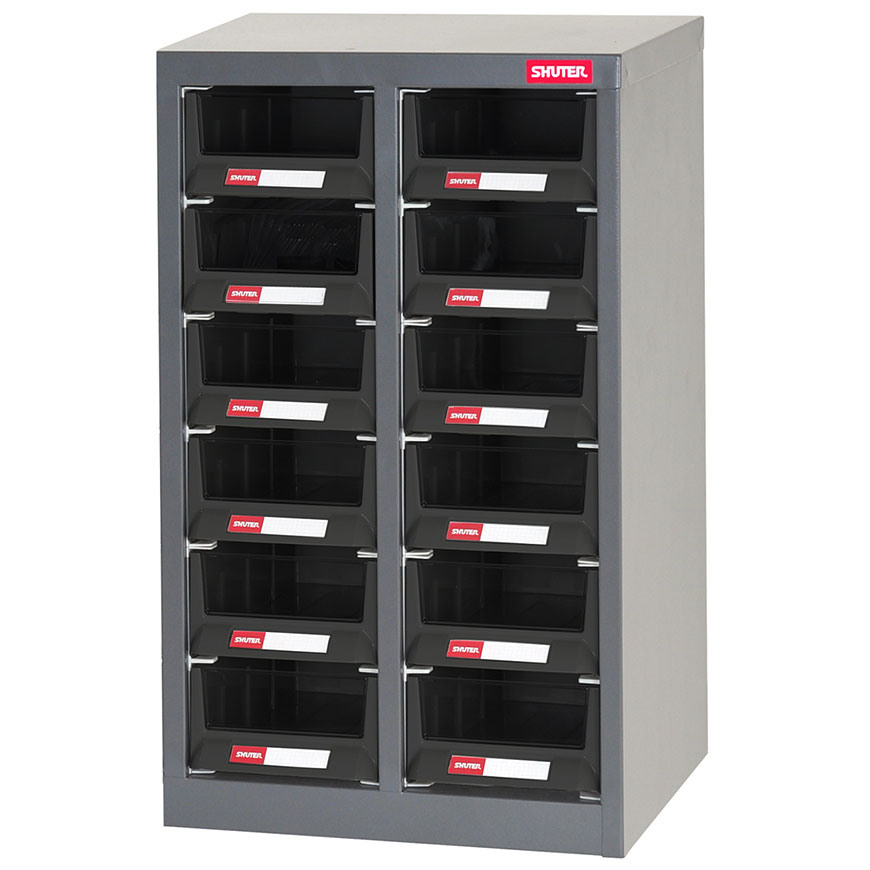 SHUTER ESD industrial steel parts cabinets (A6 series) feature galvanized steel framing that gives each unit expert acid, oxidization, and abrasion resistance. Ideal for storing electronic components and other items requiring an antistatic environment, these cabinets come with removable index cards for easy identification and internal, moveable dividers for flexible organization. Clever built-in stops prevent drawers from falling forward, even when full. This twelve drawer, two column unit safely and efficiently helps you store all your small parts and tools. Change the colors of body or drawer if you so desire.
Features
With 12 drawers made of ESD PP material (in SHUTER A6 drawer style) in 2 columns.
Drawer slides made of integrated, impact resistant POM.
Each ESD PP drawer has a 2.6L capacity.
Body is made of rust-resistant SECC 0.88 mm thick galvanized steel sheet with a 0.1 mm thick high-temperature powder coating.
Fitted with corner guards.
Cabinet and drawer color can be customized.
Specification
Dimensions: 362 W x 265 D x 571 H mm
Package Details: 1 pc / 1 ctn (439 W x 363 D x 658 H mm / 3.70 cu ft)
Weight: NW 10.06 kg; GW 11.58 kg
Material: Steel, ESD PP
Color: Dark Gray Body with Black Drawers
Latest News
SHUTER is certified to ISO 14051:2011

We are glad to announce that SHUTER is just certified to ISO 14051 (MFCA: Material Flow Cost Accounting).
Under MFCA, the flows and stocks of materials within SHUTER are traced and quantified...

Read More

A good toolbox enhances your working efficiency

The heavy duty design of SHUTER tool boxes developed over years of manufacturing experience cannot be beaten in the marketplace today.
The tool storage box is available with market-leading...

Read More

SHUTER Babbuza Dreamfactory wins DFA Awards

The DFA Design for Asia Awards is a stage upon which design talents and corporations can showcase their design projects internationally.

Congratulation!!
Babbuza Dreamfactory earned SHUTER...

Read More