Digital Metal Locker for Secure Storage - 12 Doors in 3 Columns
FC-312
Digital Metal Locker for Secure Storage - 12 Doors in 3 Columns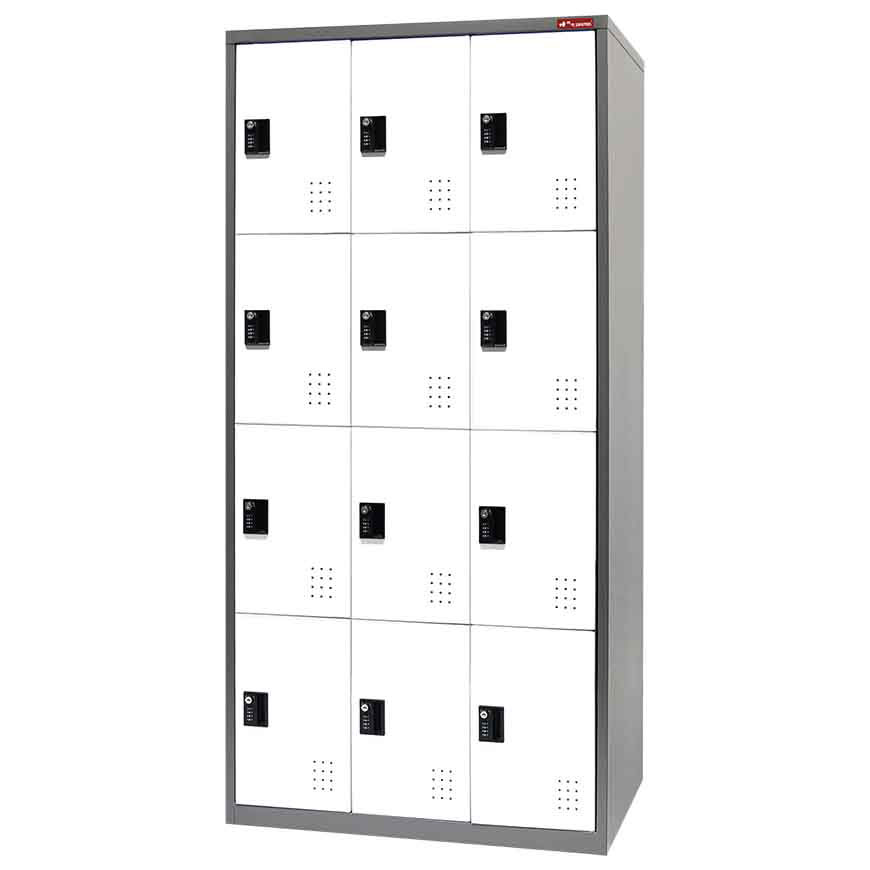 Day-or-night use lockers providing flexible and secure storage options from SHUTER. This steel tower locker cabinet is the very best option for use as a wardrobe or for large item storage in home, office, or industrial settings. Made of rust-resistant SECC 0.88 mm thick galvanized steel alloy sheet with a 0.1 mm thick high-temperature powder coating, each cabinet comes with removable index cards for easy personalization and feature ventilation holes to reduce odors. FC-312 digital metal locker is a three-column cabinet with twelve lockable doors. Change the door color to suit whatever you require, and you are also provided with over 10,000 password sets and administrator keys for the digital locks installed into each door.
Features
Use as a wardrobe or large item storage.
Five series and 10 door size combinations.
Removable, personalizable index cards.
Ventilation holes reduce odors.
Optional lock (digital or key).
Door color can be customized.
Specification
Dimensions: 900 W x 510 D x 1800 H mm
Package Details: 1 pc / 1 ctn (960 W x 590 D x 1860 H mm / 37.20 cu ft)
Weight: NW 72.50 kg; GW 76.50 kg
Material: Galvanized Steel
Color: Gray with White
Latest News
SHUTER is certified to ISO 14051:2011

We are glad to announce that SHUTER is just certified to ISO 14051 (MFCA: Material Flow Cost Accounting).
Under MFCA, the flows and stocks of materials within SHUTER are traced and quantified...

Read More

A good toolbox enhances your working efficiency

The heavy duty design of SHUTER tool boxes developed over years of manufacturing experience cannot be beaten in the marketplace today.
The tool storage box is available with market-leading...

Read More

SHUTER Babbuza Dreamfactory wins DFA Awards

The DFA Design for Asia Awards is a stage upon which design talents and corporations can showcase their design projects internationally.

Congratulation!!
Babbuza Dreamfactory earned SHUTER...

Read More