CNC Cutting Tools Warehouse Cabinet with 3 Tool-and-Bit Holder Benches
THD-3B
CNC Cutting Tools Warehouse Cabinet with 3 Tool-and-Bit Holder Benches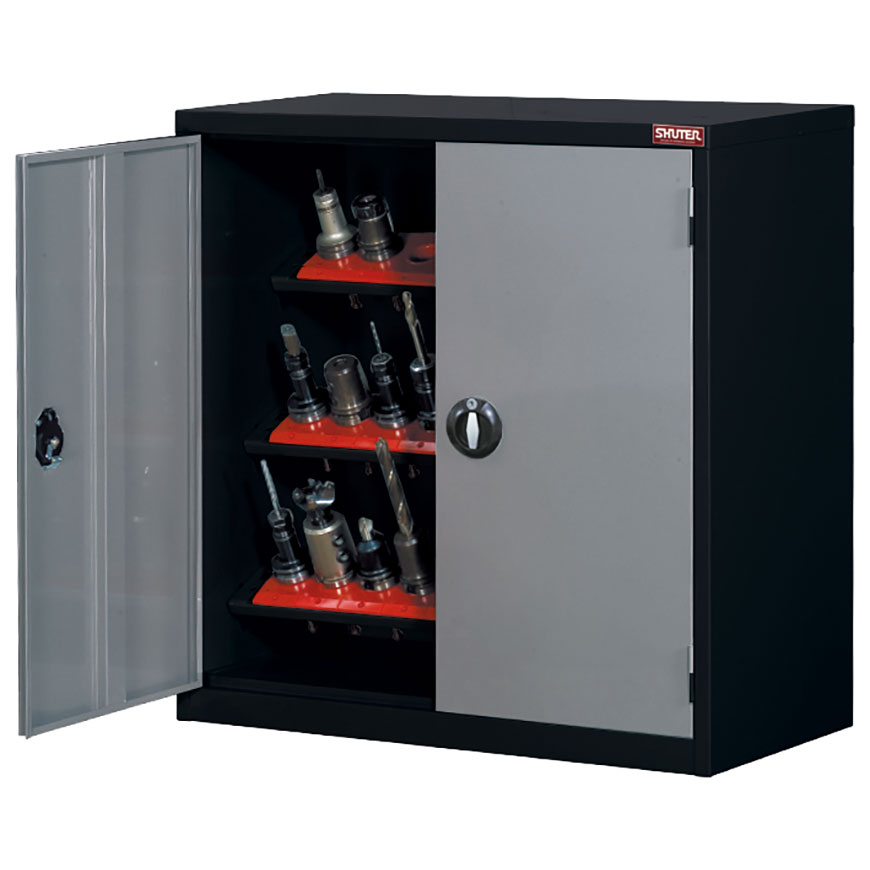 SHUTER's range of sturdy, practical CNC tool storage cabinets are designed to not only keep your expensive tools organized, but also keep them safe from dust, damage, and theft. The heavy-duty galvanized steel framing gives each unit expert acid, oxidization, and abrasion resistance, and fixed holders ensure tools securely stay in place. Use this cabinet to keep safe all kinds of CNC tools and bits, giving workers quick access to what they need when.
Features
Heavy-duty steel CNC tool storage cabinet with lockable doors.
Flat pack, knock down design for easier, cheaper transportation, storage, and on-site assembly.
Tool holder racks fixed by screws to prevent falls.
Side panel is an impressive 1.6mm for increased loading capacity.
Choose from 4 individual SHUTER tool holder rack styles: BT-30, BT40, BT-50, HSK-63.
Specification
● Dimensions: 880 W x 400 D x 880 H mm
● Package Details:
* Carton A (Cabinet): 963 W x 476 D x 967 H mm (15.65 cu ft)
* Carton B (Tool Holders): 163 W x 852 D x 125 H mm (0.61 cu ft)
* Carton C (Tool Holders): 163 W x 852 D x 125 H mm (0.61 cu ft)
* Carton D (Tool Holders): 163 W x 852 D x 125 H mm (0.61 cu ft)
● Weight:
* A: NW 28.77 kg; GW 31.70 kg
* B / C / D: NW 3.45 kg; GW 3.87 kg
● Material: Steel, ABS (Tool Holders)
● Color: Black Body with SHUTER Red Tool Holders
Gallery
Latest News
SHUTER is certified to ISO 14051:2011

We are glad to announce that SHUTER is just certified to ISO 14051 (MFCA: Material Flow Cost Accounting).
Under MFCA, the flows and stocks of materials within SHUTER are traced and quantified...

Read More

A good toolbox enhances your working efficiency

The heavy duty design of SHUTER tool boxes developed over years of manufacturing experience cannot be beaten in the marketplace today.
The tool storage box is available with market-leading...

Read More

SHUTER Babbuza Dreamfactory wins DFA Awards

The DFA Design for Asia Awards is a stage upon which design talents and corporations can showcase their design projects internationally.

Congratulation!!
Babbuza Dreamfactory earned SHUTER...

Read More