2.5L Classic Series Stacking, Nesting & Hanging Bin for Parts Storage
HB-1525
2.5L Classic Series Stacking, Nesting & Hanging Bin for Parts Storage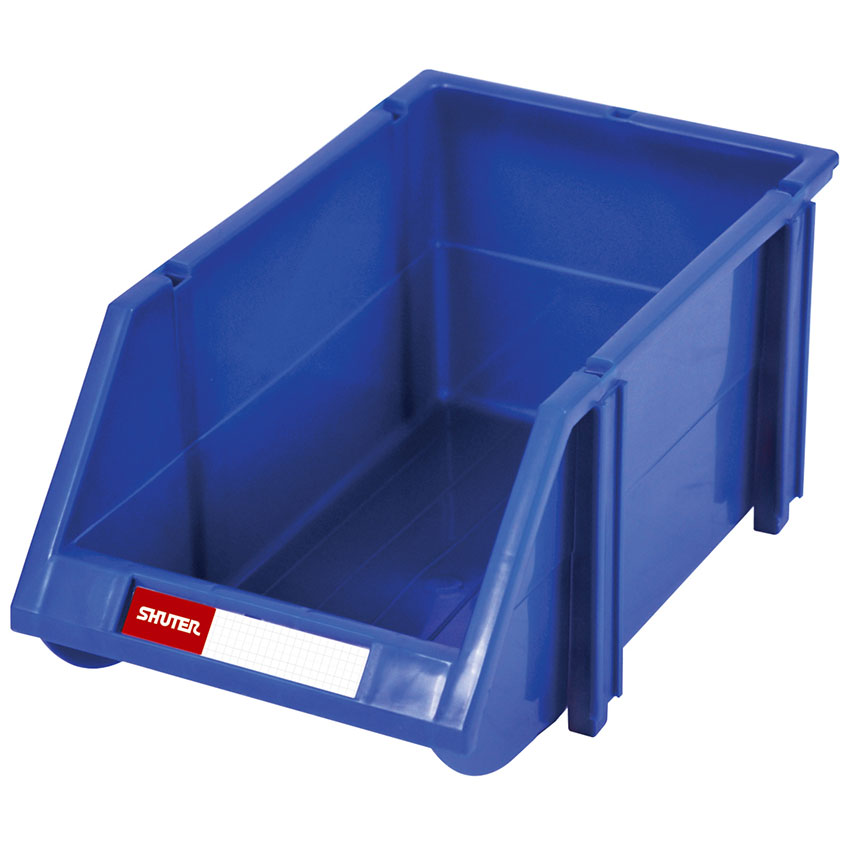 Available in a variety of sizes, SHUTER's industrial stacking-nesting-hanging bins allow you to create the storage system you need for your specific situation, in the office or at the factory. Join bins next to or on top of each other to create a modular, flexible storage system perfect for your specific space. Use the available spacers to increase the space in each stacked bin. Hang bins on the wall or a hanging rack on a workstation. Designed for customers seeking to create a unique solution for small parts storage in warehouse or factory.
Features
Snap bins in place horizontally and securely with clever tail groove design.
Hopper-style front allows easy access to stored items.
Front-facing label holder.
Riser legs increase height for even more space.
Made of durable, non-toxic PP plastic that resists heavy impacts and corrosion.
Inset stacking design saves storage space when bins are being transported and packaged.
Each bin can withstand weights of up to 6 kg (13 lb).
Molded plastic exterior / interior is easy to wipe down when dirty.
Can be used in wet or dry environments.
Color can be customized.
Specification
Dimensions: 150 W x 265 D x 121 H mm (5.9" W x 10.4" D x 4.7" H)
Material: PP
Capacity 2.5L
Gallery
Latest News
SHUTER is certified to ISO 14051:2011

We are glad to announce that SHUTER is just certified to ISO 14051 (MFCA: Material Flow Cost Accounting).
Under MFCA, the flows and stocks of materials within SHUTER are traced and quantified...

Read More

A good toolbox enhances your working efficiency

The heavy duty design of SHUTER tool boxes developed over years of manufacturing experience cannot be beaten in the marketplace today.
The tool storage box is available with market-leading...

Read More

SHUTER Babbuza Dreamfactory wins DFA Awards

The DFA Design for Asia Awards is a stage upon which design talents and corporations can showcase their design projects internationally.

Congratulation!!
Babbuza Dreamfactory earned SHUTER...

Read More