SHUTER wraps up Future Forward 2019 buyers' conferences in Vietnam and USA
2019/09/06
Shuter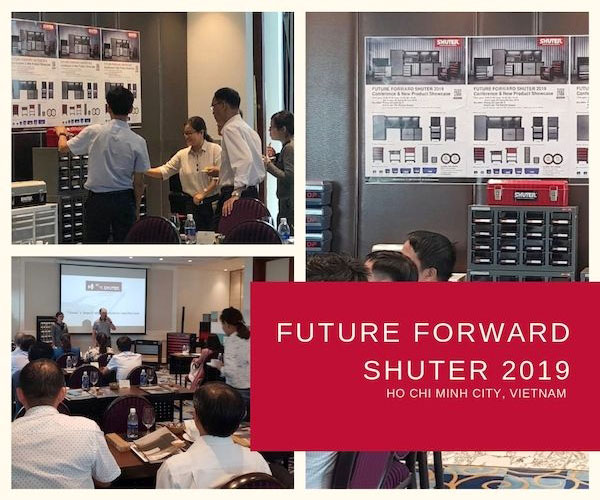 For companies, buyers, and potential distributors in the engineering, manufacturing, and tool sectors.
Mr. Yira Wu, Managing Director of Shuter Enterprise Co. Ltd (the company behind the SHUTER brand), welcomed guests at both events. After an introduction to Shuter Enterprise and the company's SHUTER range of industrial storage solutions, guests were given the opportunity to get hands on with the many products on display.

Most popular with event guests were SHUTER's extensive range of steel parts cabinets, the classic hanging bins series, and the new FB 6432 CARGO collapsible crate (view it in the catalog). SHUTER's TC / CT heavy duty tool carts and the MS-FO quick tip-out bin mobile stands proved particularly popular in Chicago, while guests in Ho Chi Minh City were captivated by SHUTER's time-tested TB tool boxes.

The events in Vietnam and the USA wrap up a year-long tour consisting of product showcase events and company visits across four countries: Japan, the Philippines, Vietnam, and the USA.

"The Future Forward SHUTER 2019 business series has given us the opportunity to not see first-hand the operations of some of our most valued customers," says President Wu. "But it's also given us the chance to get valuable feedback - both praise-worthy and constructive - on the products we're offering the global market."

SHUTER is keen to continue this product showcase series into 2020. If you would like to arrange a showcase in your country or have SHUTER visit your company, contact our team.
Industrial and Workspace Storage Solutions Pioneer | Shuter
Located in Taiwan, Shuter Enterprise Co. Ltd., since 1969, is a tool and workspace storage product and system supplier. Main product, including office storage system, CNC tool storage, tool cabinet, tool box, tool chest, locker and so forth.
SHUTER designs industrial tool and office storage products from customers' point-of-view: ­by finding the simplest way to build an ideal home. With 100 - 1,000 ton injection molding machines operating 24 hours a day alongside over 50 punching and bending machines used to conduct high-quality storage products.
Shuter has been offering customers high-quality industrial tools and office storage systems since 1969, both with advanced technology and 17 years of experience, Shuter ensures each customer's demands are met.
View our quality products
Metal Locker
,
Metal Storage Locker
,
Storage Cabinet
,
Office Storage Credenza
,
Office Storage with Casters
,
Filing Cabinet
,
Office Bookcase
,
CNC Tool Storage Trolley
,
Heavy-Duty Workbench
,
Heavy Duty Metal Tool Cabinet
,
Metal Storage Tool Cabinet
,
Flip Out Bin
,
Nesting & Hanging Bin
,
Quick Flip Out Bin
,
Tool Box
,
Tool Chest
,
ESD Antistatic Hanging Bin
,
ESD Antistatic Metal Storage Tool Cabinet
,
CNC Cutting Tools
,
CNC Tool Holder Rack
and feel free to
Contact Us
.
Press Release
SHUTER Wraps up Future Forward in June, 2019

SHUTER wraps up Future Forward 2019 buyers' conferences in Vietnam.

Read More

SHUTER Wraps up Future Forward in May, 2019

SHUTER x RECO host Future Forward buyers' conference in Japan.

Read More

SHUTER Wraps up Future Forward in Oct, 2019

SHUTER products tip-top at Taipei AMPA 2019.

Read More