Metal Lockers
Sturdy lockable steel cabinets for use in factory, institute, or office.
Features
Manufactured in SHUTER's full-service factory using top quality SECC 0.88 mm Japan-made galvanized steel alloy sheet with a 0.1 mm powder coating, SHUTER industrial metal lockers are rust- and scratch-resistant. Attractively colored in white and grey (color can be changed to order), the carefully rounded corners of each unit protect users from injury. Digital or key locks make these lockers some of the most secure on the market. These top-of-the-line lockers are ideal for installation in factories, hospitals, educational institutes, retail environments or wherever secure digital device or personal possession storage for employees and visitors is needed.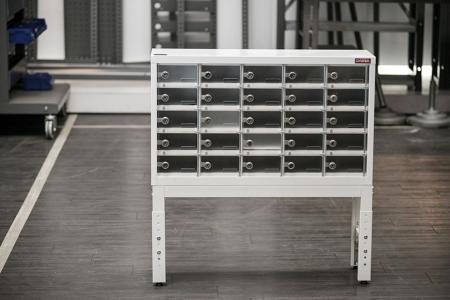 Secure, Lockable, Cabinet-Style Storage for Phones, Tablets, and Laptops.
More
---
Press Release
SHUTER Wraps up Future Forward in June, 2019

SHUTER wraps up Future Forward 2019 buyers' conferences in Vietnam.

Read More

SHUTER Wraps up Future Forward in May, 2019

SHUTER x RECO host Future Forward buyers' conference in Japan.

Read More

SHUTER Wraps up Future Forward in Oct, 2019

SHUTER products tip-top at Taipei AMPA 2019.

Read More