CNC Tool Storage
Tool holder cabinets or carts for storage of CNC bits.
Features
SHUTER's range of sturdy, practical, and mobile CNC tool carts and storage units are designed for specific tooling applications. Tool holders come both stepped and flat, and can be customized with ease according to job requirements and workplace settings. Optional accessories such as shelves, cabinet doors, pegboard siding, and more mean that SHUTER CNC tool storage systems are made to suit almost any industrial environment. Choose SHUTER for all your mobile tool storage needs!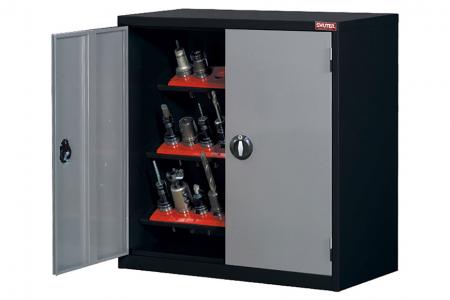 Lockable Doors Guarantee Secure Storage of Expensive CNC Bits and Tools.
More
---
Press Release
SHUTER Wraps up Future Forward in June, 2019

SHUTER wraps up Future Forward 2019 buyers' conferences in Vietnam.

Read More

SHUTER Wraps up Future Forward in May, 2019

SHUTER x RECO host Future Forward buyers' conference in Japan.

Read More

SHUTER Wraps up Future Forward in Oct, 2019

SHUTER products tip-top at Taipei AMPA 2019.

Read More