Equipment
Sharp tools make good work
SHUTER's manufacturing complex houses own fully automatic 100 to 1,000 tons injection molding machines operating 24 hours a day and alongside over 50 punching and bending machines used to form our high quality steel products.

SHUTER also owns 4,000 molds and 1,200 dies for industrial part production and runs 4 full-production lines assembling 12 product ranges.

SHUTER has experiences with a wide variety of materials like galvanized steel, PP, ABS, POM, and other plastics, plus a range of innovative, multi-material combinations.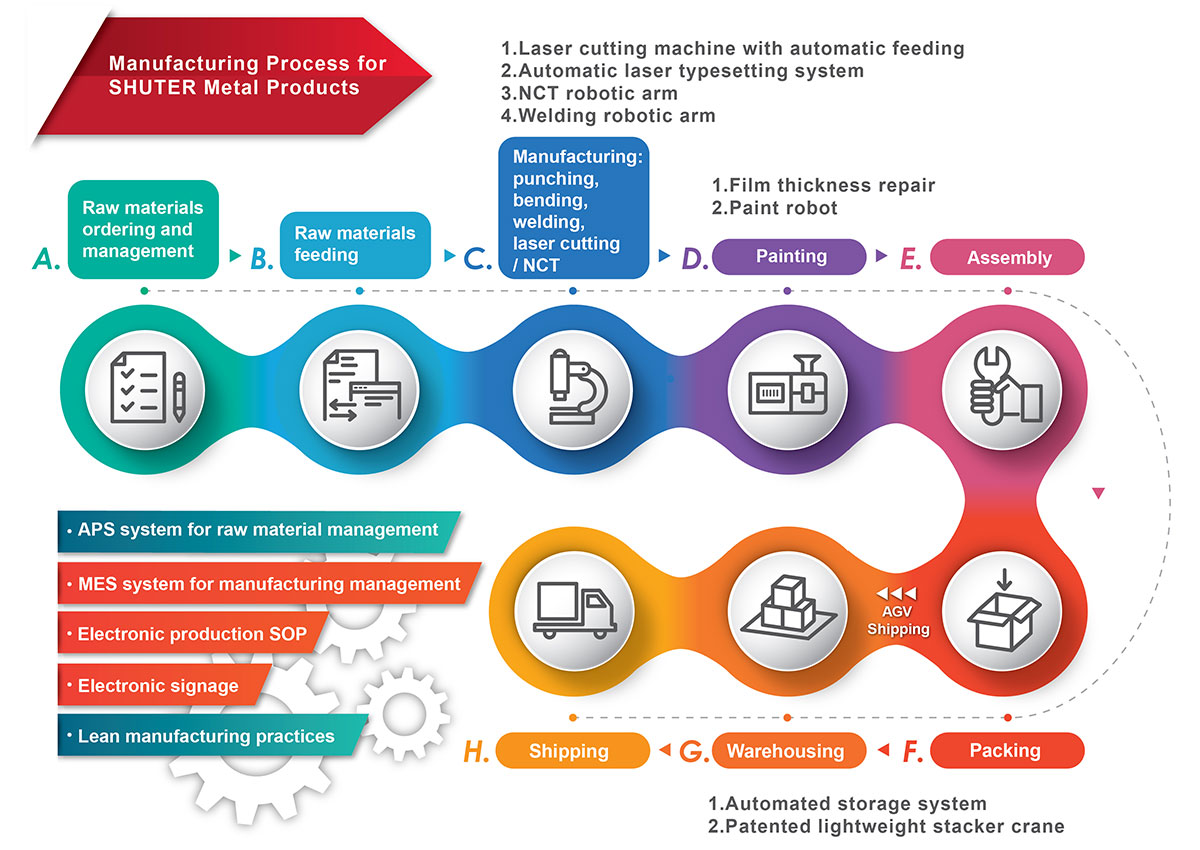 SHUTER regularly purchases new equipment and embraces lean manufacturing practices to continually improve on our manufacturing ability, shorten lead times, and reduce costs for the customer.
Machines inside the SHUTER factory
CO2 Automatic Welding Robot (OTC FD-B6L)
✓ Reduces production costs by automating manual welding labor and minimizing reliance on technicians.
✓ Welding patterns can be precisely programmed, ensuring lower defect rates.
✓ Faster cycle times increase production capabilities.
✓ 6 kg capacity payload: suitable for mold frames, table legs, and FC filing cabinet doors.

NCT Computer Automated Machinery - FANUC Robotic Arm (FANUC R-2000IC / 165F)
✓ Feeds raw material to the punching machine.
✓ Reduces production costs by automating labor and reducing human error.
✓ Increases production rates with excellent cycle times.
✓ Heavy payload machine with outstanding 165 kg capacity.

CNC Servo-Hydraulic Punching Machine (Tailift HPS1250X)
✓ Shorter lead and mold times (as compared with a traditional punching machine).
✓ High flexibility: handles a wide variety of metal types and processing requirements.
✓ Computer operated: height and depth of each punch is programmable with 0.1 mm accuracy for faster punching speed.
✓ High mobility with use of CAT / CAM nesting software.
✓ Robotic arm automatic feeding reduces labor costs and increases production rates.

Injection Molding Machine (TOYO Si-850-6 / L750D)
✓ 1.5 times faster production rates than a traditional injection machine.
✓ High precision for lower defect rates in large-volume production.
✓ Focus on energy efficiency: maximizes cost-effectiveness and reduces resource dependence.
✓ Shorter cycle times due to optimized movement dynamics and synchronized locking.

Laser Cutting Machine (Bystronic ByStar Fiber 3015 F6000)
✓ Unbeatable productivity with industry-leading cutting speeds.
✓ Maximum flexibility allows for large volume production runs and spontaneous customer orders.
✓ Computerized, unmanned operation reduces production costs.
✓ Suitable for a wide range of metals, including steel, stainless steel, aluminum, copper, and more.
✓ Able to handle sheets to a maximum size of 1500 x 3000 mm and thickness of 30 mm.
SHUTER production equipment and facilities
Injection molding machine: Toyo x 22 pcs
Punching machine:Tailift/ Yeh Chiun x 12 pcs
Laser cutter: Amada x 1 pc
Bending machine: Amada/ Tailift x 13 pcs
Welding machine: Da Jie x 15 pcs
Assembling line: Taiwan New Lighting x 2 sets
EDM: Oscar x 3 pcs
Milling machine: Gentiger x 3 pcs
Lathing machine: Gentiger x 1 pc
Industrial and Workspace Storage Solutions Pioneer | SHUTER
Located in Taiwan, SHUTER Enterprise Co. Ltd, since 1969, is a tool and workspace storage product and system supplier. Main product, including office storage system, CNC tool storage, tool cabinet, tool box, tool chest, locker and so forth.
SHUTER designs industrial tool and office storage products from customers' point-of-view: ­by finding the simplest way to build an ideal home. With 100 - 1,000 ton injection molding machines operating 24 hours a day alongside over 50 punching and bending machines used to conduct high-quality storage products.
SHUTER has been offering customers high-quality industrial tools and office storage systems since 1969, both with advanced technology and 52 years of experience, SHUTER ensures each customer's demands are met.
View our quality products
Metal Locker
,
Metal Storage Locker
,
Storage Cabinet
,
Office Storage Credenza
,
Office Storage with Casters
,
File Cabinet
,
Office Bookcase
,
CNC Tool Storage Trolley
,
Workbench
,
Metal Tool Cabinet
,
Tilt Bin
,
Flip Out Bin
,
Hanging Bin
,
Pegboard Bin
,
Tool Box
,
Tool Chest
,
ESD Antistatic Pegboard Bin
,
ESD Antistatic Metal Storage Tool Cabinet
,
CNC Tool Storage Cabinet
,
CNC Tool Holder Rack
and feel free to
Contact Us
.
Latest News
SHUTER is certified to ISO 14051:2011

We are glad to announce that SHUTER is just certified to ISO 14051 (MFCA: Material Flow Cost Accounting).
Under MFCA, the flows and stocks of materials within SHUTER are traced and quantified...

Read More

A good toolbox enhances your working efficiency

The heavy duty design of SHUTER tool boxes developed over years of manufacturing experience cannot be beaten in the marketplace today.
The tool storage box is available with market-leading...

Read More

SHUTER Babbuza Dreamfactory wins DFA Awards

The DFA Design for Asia Awards is a stage upon which design talents and corporations can showcase their design projects internationally.

Congratulation!!
Babbuza Dreamfactory earned SHUTER...

Read More