SHUTER Babbuza Dreamfactory Beam Raising Ceremony
2019/09/23
SHUTER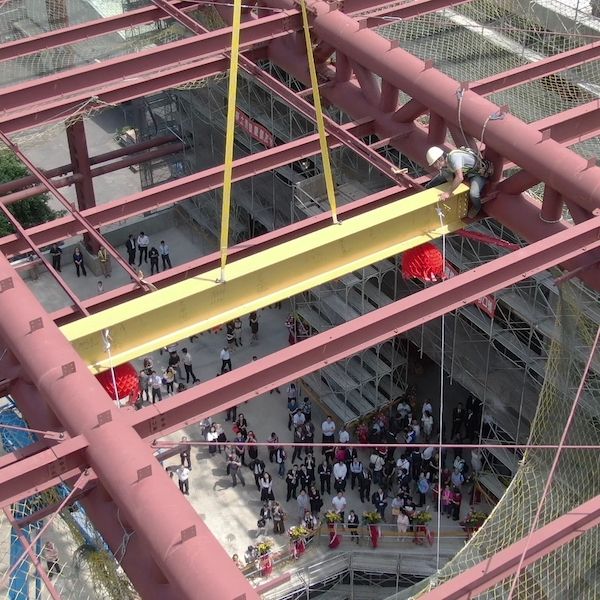 On Friday, September 20, 2019, Babbuza Dreamfactory hit a significant milestone…
As 150 SHUTER Enterprise staff and invited guests gathered at factory construction site in the hills overlooking Nantou City. They were there to witness one of the most important events in the factory's history: the blessing, signing, raising, and placement of the final steel construction beam.
The construction of Babbuza Dreamfactory has been a true labor of love–pioneered by SHUTER Enterprise Chairman and second-generation owner Yira Wu. Last Friday, the project saw the second of three major milestones completed: the placement of the final construction beam. The eight-meter-long, gold painted beam will stand forever as a memorial for a dream that started way back in 2012.

Before being lifted to the top of the enormous steel framing of the building, the beam was blessed in a traditional Taiwanese ceremony and then signed by 22 invited special guests and 50 SHUTER staff members. Event attendees were also treated to a performance of traditional Bunun dancing by children from Xinxiang (or Sinapalan in Bunun language) Elementary School. The Bunun tribe is one of Taiwan's 14 recognized indigenous tribes, and some of the the tourism facilities in the Babbuza Dreamfactory will be dedicated to the promotion of Taiwan's indigenous cultures.

Honored guests at the event included Brad Williamson of Brad Williamson Architects, Nantou Magistrate Ming-Chen Lin, Legislator Wen-Chun Ma, Taichung City Police Department 5th Precinct Chief Shih-Chieh Kuo, and Department of Tourism Director-General Yuan-Chung Wang.

First developed by Australian firm Brad Williamson Architects (a winning entrant in the 2014 international architectural design competition held by SHUTER Enterprise), this pioneering building is now tantalizingly close to being realized. A stand-out feature of the building will be a thirty-meter-tall tree structure that will dominate the foyer of the building. A true feat of design and engineering, the SHUTER Tree of Life is set to be the tallest wooden structure of its kind in this part of the world.

Since the groundbreaking ceremony in August 2017, Babbuza Dreamfactory has slowly risen from the fertile earth of the mountains surrounding Nantou, Taiwan's most centrally located city. The building is a unique concept for Taiwan: it combines all the functions of a working industrial complex with tourism, educational, and eco-focused facilities open to the public. It will house the operations of SHUTER Enterprise, including the manufacturing, packing, and delivery of products under the company's iconic SHUTER and livinbox brands, as well as tourism facilities like exhibitions spaces, museums, restaurants, and shops selling local craft products.

Expected to open at the end of 2020, Babbuza Dreamfactory will be a key fixture on the Nantou tourism trail as well as a landmark building for the region.
Industrial and Workspace Storage Solutions Pioneer | SHUTER
Located in Taiwan, SHUTER Enterprise Co. Ltd, since 1969, is a tool and workspace storage product and system supplier. Main product, including office storage system, CNC tool storage, tool cabinet, tool box, tool chest, locker and so forth.
SHUTER designs industrial tool and office storage products from customers' point-of-view: ­by finding the simplest way to build an ideal home. With 100 - 1,000 ton injection molding machines operating 24 hours a day alongside over 50 punching and bending machines used to conduct high-quality storage products.
SHUTER has been offering customers high-quality industrial tools and office storage systems since 1969, both with advanced technology and 52 years of experience, SHUTER ensures each customer's demands are met.
View our quality products
Metal Locker
,
Metal Storage Locker
,
Storage Cabinet
,
Office Storage Credenza
,
Office Storage with Casters
,
File Cabinet
,
Office Bookcase
,
CNC Tool Storage Trolley
,
Workbench
,
Metal Tool Cabinet
,
Tilt Bin
,
Flip Out Bin
,
Hanging Bin
,
Pegboard Bin
,
Tool Box
,
Tool Chest
,
ESD Antistatic Pegboard Bin
,
ESD Antistatic Metal Storage Tool Cabinet
,
CNC Tool Storage Cabinet
,
CNC Tool Holder Rack
and feel free to
Contact Us
.
Latest News
SHUTER is certified to ISO 14051:2011

We are glad to announce that SHUTER is just certified to ISO 14051 (MFCA: Material Flow Cost Accounting).
Under MFCA, the flows and stocks of materials within SHUTER are traced and quantified...

Read More

A good toolbox enhances your working efficiency

The heavy duty design of SHUTER tool boxes developed over years of manufacturing experience cannot be beaten in the marketplace today.
The tool storage box is available with market-leading...

Read More

SHUTER Babbuza Dreamfactory wins DFA Awards

The DFA Design for Asia Awards is a stage upon which design talents and corporations can showcase their design projects internationally.

Congratulation!!
Babbuza Dreamfactory earned SHUTER...

Read More