SHUTER products tip-top at Taipei AMPA 2019
2019/05/03
Shuter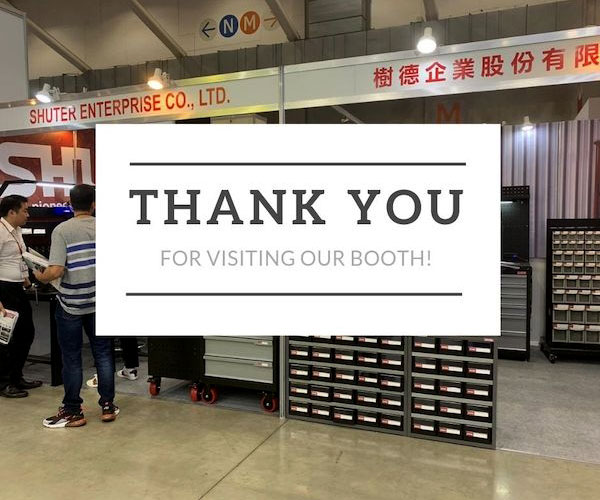 This year, it seemed visitors just could not get enough of SHUTER's larger sized tool storage offerings.
Taipei AMPA is a fixture on the SHUTER calendar because it attracts a diverse international audience, and this year was no exception. With a reported 7,200 buyers from 142 countries, the event proved as popular as ever.

SHUTER has a range of mix-and-match, mobile, and modular industrial tool and parts storage solutions, and it was these that drew the customers in to our AMPA booth in 2019.
Stand out products included:
● RFO Revolving Tower Quick Tip Out Bins
● Modular Workstations
● ST Steel Parts Cabinets
● CT Professional Heavy Duty Tool Carts

"What we were really proud to see in the feedback from visitors and customers at AMPA was that SHUTER products caught their eye because of our obvious attention to quality," says Yira Wu, Managing Director of Shuter Enterprise Co. Ld, the company behind the SHUTER brand. "Couple that with our innovative design, distinct aesthetic, and the first-class materials we use, and it's not hard to see why we're the market leader here in Taiwan, and why we're really starting to make an impact globally, too."
Industrial and Workspace Storage Solutions Pioneer | Shuter
Located in Taiwan, Shuter Enterprise Co. Ltd., since 1969, is a tool and workspace storage product and system supplier. Main product, including office storage system, CNC tool storage, tool cabinet, tool box, tool chest, locker and so forth.
SHUTER designs industrial tool and office storage products from customers' point-of-view: ­by finding the simplest way to build an ideal home. With 100 - 1,000 ton injection molding machines operating 24 hours a day alongside over 50 punching and bending machines used to conduct high-quality storage products.
Shuter has been offering customers high-quality industrial tools and office storage systems since 1969, both with advanced technology and 17 years of experience, Shuter ensures each customer's demands are met.
View our quality products
Metal Locker
,
Metal Storage Locker
,
Storage Cabinet
,
Office Storage Credenza
,
Office Storage with Casters
,
Filing Cabinet
,
Office Bookcase
,
CNC Tool Storage Trolley
,
Heavy-Duty Workbench
,
Heavy Duty Metal Tool Cabinet
,
Metal Storage Tool Cabinet
,
Flip Out Bin
,
Nesting & Hanging Bin
,
Quick Flip Out Bin
,
Tool Box
,
Tool Chest
,
ESD Antistatic Hanging Bin
,
ESD Antistatic Metal Storage Tool Cabinet
,
CNC Cutting Tools
,
CNC Tool Holder Rack
and feel free to
Contact Us
.
Press Release
SHUTER Wraps up Future Forward in June, 2019

SHUTER wraps up Future Forward 2019 buyers' conferences in Vietnam.

Read More

SHUTER Wraps up Future Forward in May, 2019

SHUTER x RECO host Future Forward buyers' conference in Japan.

Read More

SHUTER Wraps up Future Forward in Oct, 2019

SHUTER products tip-top at Taipei AMPA 2019.

Read More