SHUTER is Fully Operational: COVID-19 Notice
2020/04/06
SHUTER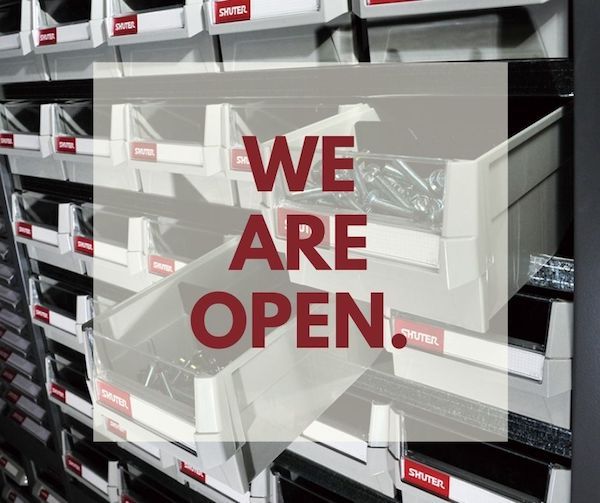 We are open.
With the COVID-19 pandemic shuttering the doors of manufacturers around the globe, we want to let everyone know that the SHUTER Enterprise factory is still running at full capacity.
So far, Taiwan has avoided the need for a country-wide lockdown due to the effective containment strategies that our government put in place as far back as January this year. For all our colleagues and customers in parts of the world experiencing a more difficult situation, we extend our deepest sympathies and heartfelt wishes for a brighter future ahead.

So please don't hesitate to reach out to us if you need to order SHUTER products. We are open, fully operational, and as always, here for you.
Industrial and Workspace Storage Solutions Pioneer | SHUTER
Located in Taiwan, SHUTER Enterprise Co. Ltd, since 1969, is a tool and workspace storage product and system supplier. Main product, including office storage system, CNC tool storage, tool cabinet, tool box, tool chest, locker and so forth.
SHUTER designs industrial tool and office storage products from customers' point-of-view: ­by finding the simplest way to build an ideal home. With 100 - 1,000 ton injection molding machines operating 24 hours a day alongside over 50 punching and bending machines used to conduct high-quality storage products.
SHUTER has been offering customers high-quality industrial tools and office storage systems since 1969, both with advanced technology and 52 years of experience, SHUTER ensures each customer's demands are met.
View our quality products
Metal Locker
,
Metal Storage Locker
,
Storage Cabinet
,
Office Storage Credenza
,
Office Storage with Casters
,
File Cabinet
,
Office Bookcase
,
CNC Tool Storage Trolley
,
Workbench
,
Metal Tool Cabinet
,
Tilt Bin
,
Flip Out Bin
,
Hanging Bin
,
Pegboard Bin
,
Tool Box
,
Tool Chest
,
ESD Antistatic Pegboard Bin
,
ESD Antistatic Metal Storage Tool Cabinet
,
CNC Tool Storage Cabinet
,
CNC Tool Holder Rack
and feel free to
Contact Us
.
Latest News
SHUTER is certified to ISO 14051:2011

We are glad to announce that SHUTER is just certified to ISO 14051 (MFCA: Material Flow Cost Accounting).
Under MFCA, the flows and stocks of materials within SHUTER are traced and quantified...

Read More

A good toolbox enhances your working efficiency

The heavy duty design of SHUTER tool boxes developed over years of manufacturing experience cannot be beaten in the marketplace today.
The tool storage box is available with market-leading...

Read More

SHUTER Babbuza Dreamfactory wins DFA Awards

The DFA Design for Asia Awards is a stage upon which design talents and corporations can showcase their design projects internationally.

Congratulation!!
Babbuza Dreamfactory earned SHUTER...

Read More